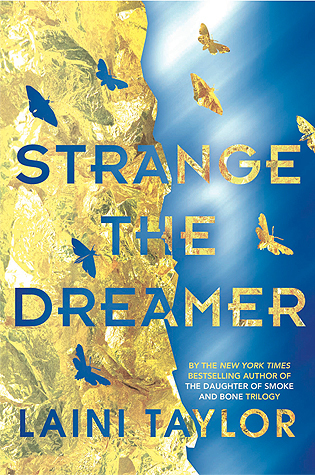 Title: Strange the Dreamer (Strange the Dreamer #1)  
Author: Laini Taylor
Rating: ★★★★★
"It was impossible of course. But when did that ever stop any dreamers from dreaming."
This is my first Laini Taylor book and it did not disappoint. I absolutely loved this book. The story and the characters are so captivating and lively. The story builds and grows and the characters exist and interact with each other organically. I can't even convey how beautiful this story actually is. It's really mesmerizing and whimsical in the best possible way.
Things I Liked:
This is a small thing but I LOVED the definitions on the "Part I, II, III, and IV" pages. I loved that is added to the entire mythology of the story and gave a little clue about where the story was going.
Speaking of mythology I loved learning about Weep, all the different creatures and the magic in this world. I bought the tragic history of Weep and why all of these foreign delegates would come investigate. The magic displayed and the promise of magic feel so real and immense. It's truly gripping and created a fully realized world.
Lazlo Strange is a fantastic character. I absolutely loved him. He is such an honest and pure soul, who yearns for information and exudes kindness. It was so easy to follow him as he grew into his own and the story bloomed through his eyes. His wonder and amazement was infectious and he guides you through the story in an effortless way. Even if you don't think you'll like this book, read it for Laz – he's worth it.
I also really loved how well developed all of the relationships are in the story. Every interaction our characters have felt purposeful and that it built a history. Even when characters only shared 2-3 scenes, the dynamic they created felt honest and real and impactful.
Things I Didn't Like:
This story is a bit long. It gets a little wordy and repetitive, with an excessive use of big made up words, like tizerkane, elmothaleth, mahalath, and mesarthium. Because of this, some parts can get a little muddled or confusing. I did get lost a few times in the story. This is one book where you really have to pay attention to what your reading.
Minya, Sparrow, Ruby, & Feral were all a little too underdeveloped for me. I got the basics about each character, but I didn't feel like I got much else. We get the most from Minya, but she was a vengeful and manipulative character who really didn't have much  else going on. I didn't think they offered much individually, but were really effective as a part of Sarai's world.
Strange the Dreamer exists in a realm all its own where girls can grow wings and dreamers can find themselves. Its beautifully crafted and emotionally gripping. I cannot recommend this enough.