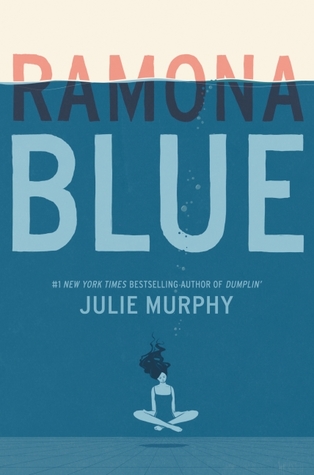 Title: Ramona Blue
Author: Julie Muphy
Rating: ★★★★☆ (4.5 Stars)
My heart is elastic. I realize it for the first time. For so long, I thought there was a limit to how much love I could hold and who I could give it to. But life is so much more dynamic than that. Love doesn't disappear when you give it away, and new love doesn't make old love any less legitimate.
---
This book was all heart. There was something so human about Ramona and her situation. She's resigned herself to a life she feels trapped in and starts to fundamentally question who she believes she is as a person. This is a story full of love, family, personal growth, friendship, and hope that you can't put down.
---
Things I Liked
Ramona was such a relatable character. She was so endearing and warm and she does everything for her family. Ramona constantly carries the weight of their reality on her shoulders and appoints herself their patron, giving all she has and hopes for to her father and sister. Because of this, she feels resigned to small town life. She knows her place and what's expected of her. Through the story, we see Ramona begin to hope for more and entertain the idea that her fate is not as defined as she once believed. This parallels beautifully with Ramona realizing that love and happiness are as dynamic as her future. She has choice, she has power, she has control. Ramona begins to recognize her own worth, outside of her family role, and embraces it.
The writing was so beautiful and immersive. I felt like I was a part of the town, like I knew these characters. Their stories embedded themselves in my heart and I cared. Everyone was real and accessible creating a story that felt authentic and true.
The characters in this story were all so vibrant. They're dealing with their families, they're worrying about the future, they're falling in love, they're getting their heart broken, they are on the path of self discovery. They feel sincere and all became real people.
Sexuality and sex are discussed openly and honestly in the story with no regrets from the characters or judgement passed on them by others. Ramona says multiple times that her feelings toward Freddie and their potential relationship are not about 'fixing' her or 'curing' her – because she still very much likes girls – but it's about her learning about herself and realizing things aren't as defined as she thought. I found Ramona's journey to be powerful and meaningful. As she discovers her own agency in this rigid small town system, trapped by limitations, she allows herself to find happiness and hope for more.
---
Things I Liked Less
The story begins with Ramona saying goodbye to her summer romance Grace, who still has a boyfriend in her hometown. I'm just over cheating in YA books. I don't need it to create tension or drama. I don't need it to propel someone forward or make them have a grand revelation. I just don't need it. It doesn't help any party involved.
I felt like some details in the story were over explained, like the Star Wars movies, or reiterated to make a point. Trust the audience to understand what you're saying and don't use more words than necessary.
---
This story was about self discovery and acceptance. It's about realizing your worth and embracing a future you didn't think was possible. Ramona grows and learns and adapts. She is both steadfast and dynamic, hopeful and resigned, judgmental and compassionate. This is Ramona's story and it is given the weight it deserves. We are with her and support her and want her to succeed. This story a beautiful story that showcases family, love, and growth.
---
I received a copy of this book from the publisher via Edelweiss in exchange for an honest review.