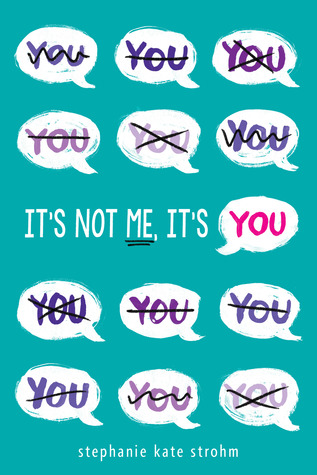 Title: It's Not Me It's You     
Author: Stephanie Kate Strohm
Rating: ★★★★☆
"Because I was realizing that maybe what mattered wasn't whether you were in a relationship or not. What mattered was that you could still be yourself in that relationship."
What a fun book. It's Not Me, It's You is one of the funniest books I've read in awhile. The characters are bubbly and the high school drama is entertaining. It's really a perfect summer book.
Things I Liked :
I really loved the narration style in this story. It's written as an oral history report, and reads as very conversational. I loved the little editor's notes we get throughout the story. I felt like they really showed some personality for Avery, Coco, and Hutch. The narration reminded me of the Mean Girls when the other students are asked about Regina George or a Zack Morris in Saved By the Bell style narration. It was just so easy to read and flowed really well.
This book is so funny. I actually laughed out loud multiple times. The characters, the situations, the interactions are all enriched with a lively humor. This is a entertaining look at high school drama from mean girls to cliques and dating.
All of the characters felt very distinct, which was impressive in this format. They were all realistic and reminded me of people from high school, even if they were exaggerated a bit. I loved that Avery wasn't just a boy-obsessed ditzy blond character and that she was more on a quest of self discovery and reflection than about boys.
Things I Didn't Like :
Despite having such a great time reading this, it was way too easy to stop in the middle of a chapter and do something else. It was so easy to come in and out of the story that I found myself stuck in the middle of a chapter for an hour while I was distracted online or by tv. It's not a really gripping story, but it definitely is a fun one that is easy to read.
This was such a great reading experience for me and I definitely recommend it. You are guaranteed a fun and fluffy story filled with great characters and a lot of laughs!