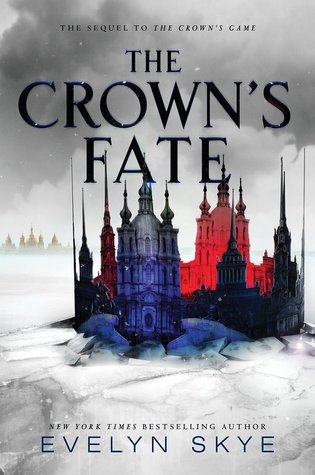 Title: The Crown's Fate (The Crown's Game #2)
Author: Evelyn Skye
Rating: ★★★★☆(4.5 stars)
The Crown's Game is an old one, older than the tsardom itself. But it is not the only game. There are games of love, played by boys and girls. Games of deception, played by gamblers and thieves. Games of war, played by generals and kings. Then there are the games that combine all three, played only by those with nothing to lose. 
The Crown's Game was one of my favorite book from last year, so I have been eagerly anticipating this book for months. And I can happily say that I really enjoyed it. I loved being back in this world with fantastical magic. I loved seeing how everyone deals with the fallout from book 1, and reconciling who they are and what they mean to each other.  
Things I Liked :
I loved all of the emotion displayed in the story. It was so complex and compelling. Every character is feeling a myriad of conflicting emotions. Vika and Pasha are both gutted about Nikolai's death. Pasha is regretful about ending the game the way he did, while Vika and Nikolai are resentful and angry. Vika is also happy about being the Imperial Enchanter, but feels her loss of freedom deeply and a monotony to being a personal spy for the royal family. Nikolai's anger is fueled by Aizhana's power and all of his bitterness  become amplified. Each character is dealing with so much that it was easy for me to be drawn into their stories and experience their emotions alongside them. I felt that all of their responses were believable and worked well in the context of the overall story.
I once again became enveloped in this world that Evelyn Skye had created. It continues to masterfully blend historical facts with magical realism in a captivating and enchanting way. The story is so descriptive and full, without being wordy. This world feel real and tangible. I become invested in the story and believe in this world.
I loved the magic displayed in book 1, and there was even more of it on display here. The common people have been made aware of magic's presence in Russia, fueling it's power. I loved seeing more elaborate and extensive spells and illusions. I also found the power manifesting in Russian myths and fighting back (like the Catfish King) to be really interesting, and I wish we got a little more of it. Even though Vika and Nikolai's power grew exponentially in this book, I liked the symmetry of the bracelet that bonded Vika to the tsardom. It mirrored to wand scars expertly and acted as a familiar anchor as magic began to blossom in unforeseen way. I also loved how Vika returned Nikolai's power, that saved her at the end of book 1, to him and allowed him to have his corporeal form again and overcome the anger and bitterness of Arizona's power. Vika being able to harness mechanical power now, as well as elemental power, thanks to her newly bronze hand was also a fun highlight at the end of the story.
I really liked the politics in this story. All of the planning and spying and espionage as the Decembrist planned on removing the tsar from power and instilling a constitutional monarchy was engaging and added a nice element of tension to the story.
Things I Didn't Like :
Miscommunication and assumptions are one of my least favorite things to use as a plot device. It always just makes me frustrated and I want to yell at my book. Nikolai and Renata assuming Pasha and Vika are together and then not actually asking either of them what was going on was really frustrating. It would have been so easy to clear up and might have helped Nikolai's not be so enthralled by his mom. I did like that Vika and Nikolai did talk and clear the air around the halfway point, but he was already a little too far gone in his anger.
I didn't really like Yuliana much in this one. I felt like she was constantly undermining Pasha. I didn't like that she could give Vika orders. I felt that only Pasha should have been able to as the tsarevich and the Enchanter is bound to the tsar. I also didn't really like how she gave secondary orders to Pasha's infantry in the final battle that they followed. I felt like it undermined his role as a leader. I know she loves and supports her brother, but it sometimes felt like she loved power more.
The more I think about it, the more I really love this world that Evelyn Skye has created. The magic is immersive and the characters are honest. I know this series is divisive and it's not for everyone. But if you like magical realism in a seamlessly blended story, and well crafted and vibrant settings, I think you'll enjoy this series.
Disclaimer: I received a copy of the book from the publisher via Edelweiss in exchange for an honest review.