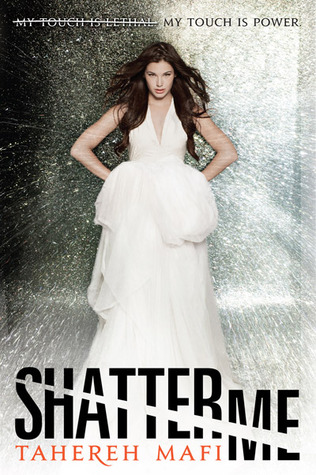 Title: Shatter Me (Shatter Me #1)  
Author: Tahereh Mafi
Rating: ★★★★☆
"Hope is hugging me, holding me in its arms, wiping away my tears and telling me that today and tomorrow and two days from now I will be just fine and I'm so delirious I actually dare to believe it."
Shatter Me is a fantastic beginning to a promising series. I love the world that was created and Juliette as a character. This book was so easy just fly through and become totally ensnared. And now is the perfect time for me to revisit this because it's getting a TV series, and a 3 book extension.
Things I Liked :
I really loved the writing. The style was really reflective of Juliette's character and I loved that. It's both poetic and manic, searching for hope and beauty in the corrupt world she's trapped in. There is such great imagery too. I can easily picture this world and connect to Juliette's emotions. I also liked the strike text parts – they were a nice tough and also helped show Juliette's mindset.
I like the powers shown in the book. Powers are always fun and can lead to heroism and drama. I'm still a little unclear how people have gotten their powers, and who is more likely to get them. But those are questions that make me want to continue on with the series. I also really loved seeing the Omega compound and these other people with powers training and embracing their powers and who they are. They can grow into self acceptance and don't have to be ashamed of their powers.
Juliette is a great character. She is so kind-hearted and open. She thinks she's a monster for things that she doesn't know how to control, but she NEVER wants to hurt people and she actively fights against it. I love her power set – threat she not only has a lethal touch, but strength and power also. It gives her some power and control in a situation where she is truly in over her head.
The side characters are fantastic. Adam is another character that is good. He's kind to Juliette and never judges her or tries to manipulate her. Kenji is sarcastic and hilarious and brings some much needed levity to the story. James is a sweetheart and his relationship with Adam is great. James just exudes childlike innocence and happiness.
Things I Didn't Like :
Warner is a creepy psycho. He's manipulative, possessive, arrogant, controlling , and all around a gross person. He's a stalker. He is literally the embodiment of every guy who doesn't like to hear the word no and throws a tantrum and becomes violent. Right now I think pretty close to irredeemable, and I don't want some sob story about his background as an excuse/justify for his actions and I can already feel it coming. What he's done is horrible and he needs to go through some intense remorse and apologizing. He's a really well written antagonist, but if he was a real person I'd want him 3 states away from me at all times.
I feel like it took too long to get to Juliette and Adam's history and how they knew each other growing up. We didn't get anything more than hits for the first half of the book. And if this connection was so profound and impactful for both of them, I would have liked to reach the point sooner.
Juliette is the only female character for 95% of the book. And when we are introduced to the other female characters they barely have a line of dialogue, even male characters briefly introduced have more of a presence and more personality. I'm looking forward to getting more female characters and hopefully a female friendship for Juliette in future books.
This was a really great book and reignited my fondness for YA dystopian. We see a fully crafted world with some great characters and an engaging plot. I can't wait to see where the story goes.