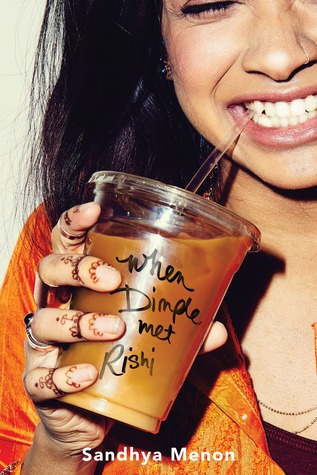 Title: When Dimple Met Rishi  
Author: Sandhya Menon
Rating: ★★★★★ 
Release Date: May 30, 2017
It was the beginning. Her freedom,  her independence, her period of learning – about herself, about the world, about her career. She was finally doing it. Here she wouldn't be Dimple Shan, wayward, Americanized daughter of immigrant parents; she'd just be Dimple Shan, future web developer. People would judge her on her brain, not her lack of makeup. There would be no cliques like high school. Everyone was here of their own volition, to learn, to teach, to work.
This was one of my most anticipated contemporaries of the year besides Always and Forever, Lara Jean. And look at this cover – It's pure perfection!
When Dimple Met Rishi follows Dimple Shah and Rishi Patel as they navigate Insomnia Con – the summer program for web developers, their parents' wishes, and each other. This story was so fun and engaging and the character leapt off the page. This is a captivating debut by Sandhya Menon and a must read for everyone.
Things I Liked :
There was such a beautiful and natural integration of Indian culture in the story. The food, the clothing, the language were all so seamlessly and organically a part of our characters lives. We get to experience this culture from their perspectives and learn more about it as well. We also get to see how Dimple and Rishi's experiences, within their culture, vary – the Indian-American experience is not a monolith!
I LOVED seeing characters – especially WOC – with hobbies and aspirations in STEM field. Dimple's love and passion for web development is so pure and open that it makes her very relatable and endearing.
The characters were fantastic. Dimple is funny and honest and confident. Rishi is so kind and optimistic. They both help each other grow, and develop a true partnership uplifting and encouraging one another. And I freaking loved all of the parents in this story. Even though they weren't featured in the story abundantly, they never felt like absent parents. They are all supportive and want the best for their children – in their own way. You could feel the love radiating off the pages. I also loved seeing how Rishi and Ashish's relationship developed over the course of the story, both becoming more accepting of their differences.
The switching POV shifts made the story really easy to get into and they highlighted Dimple and Rishi's different personalities perfectly.
The romance was PERFECT! It was a great slow burn where we get to see the characters get to know each other and develop feeling for each other organically. It felt very real and not rushed or forced. We get to see their first moments, experience their up and downs, and work their way toward a romance.
Things I Didn't Like :
Celia's "friends" that she makes during the program are pretentious asshats. They were awful people and Celia became pretty absent for large portions of the story because she was with Hari, Evan, and Isabelle. She ended up playing a smaller role than I initially expected, and it would have been nice to see her relationship with Dimple develop more.
I expected there to be much more coding or at least planning for the competition in the story. It didn't feel like we saw much coding or planning beyond initial ideas for the project. We did get some really fun prep work for the talent competition, but I would have liked to see them talk about coding more, especially because it was such a big passion of Dimple's.
This story was so fun and fluffy. It makes you smile non stop while reading it and feel giddy just thinking about Dimple and Rishi together. The story was beautifully crafted with great dialogue, strong personalities, and realistic relationships. It's a must read for fans of YA and a perfect book to add to your TBR for summer!
I received a copy of the book from Simon Pulse via Edelweiss in exchange for an honest review.