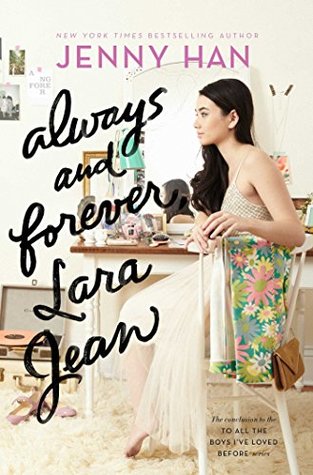 Title: Always and Forever, Lara Jean (TATBILB #3)
Author: Jenny Han
Rating: ★★★★★
Release Date: May 2, 2017
"Heed my advice, Lara Jean. Never say no when you really want to say yes."
This is my favorite contemporary series. I'm saying it definitively here and now. I absolutely love Lara Jean, the Song sisters, and Peter K. This series is so squeal-inducingly adorable that I can't stop smiling just thinking about it. This surprising conclusion to the To All the Boys I've Loved Before series follows Lara Jean as her senior year comes to a close and she has to confront the changes that comes with high school ending and growing up. Always and Forever, Lara Jean beautifully and authentically captures falling in love, growing up, and the tedious search for the perfect chocolate chip cookie recipe.
Things I Liked :
I LOVE LARA JEAN SONG COVEY. I don't think I've ever related to a character more in my life. I love that she's crafty, and a bit shy, and loves baking, and cares deeply about her family. She is so freaking charming and adorable. She is my book BFF. We would make cooking together, paint our nails, and I could teach her how to braid her hair! Basically we'd have the best sleepover party ever. Lara Jean is such a realistic and relatable character – we see her grow up and confront the changes and challenges in her life as she falls in love, gets her heartbroken, and graduates high school. She is so authentic and easy to connect with.
Peter K. and Lara Jean have one of the cutest YA romances ever. It's just tooth-achingly sweet and I love them both dearly. They love and support each other, but are not without their flaws. They fail to communicate and have squabbles, but they also confront all arguments and talk things out. The are so happy and I have a big smile on my face just thinking about them!!!
The Song-Covey family has one of the most functional and realistic relationships ever. I love the Song sisters and their support and love for each other, as well as their bickering and fighting. Their dad is fantastic and I love the addition of Trina into their little unit.
Things I Didn't Like :
This is just me being greedy but, I WANT MORE!!! I wish we got to see more Stormy and John Ambrose McClaren. I would have loved to see more of Peter and his father's relationship. I want to see how Peter and Lara Jean make it in college. I just want more, more, more!
This series is so happy making. You guaranteed to have a smile on your face and squeal with joy every 20 pages. This is also a perfect slump busting read. I just love this series so much, and I'm so happy we got this last adventure with Lara Jean! This will definitely be on my end of the year favorites