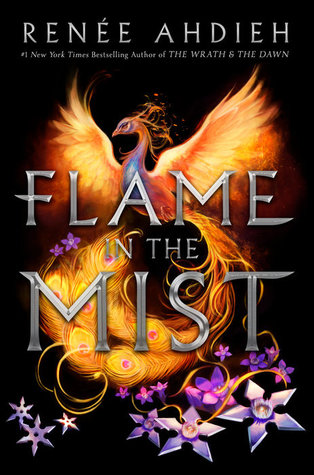 Title: Flame in the Mist   
Author: Renée Ahdieh
Rating: ★★★☆☆ (3.5 Stars)
Release Date: May 16, 2017
"Be as swift as the wind. As silent as the forest. As fierce as the fire. As unshakable as the mountain. And you can do anything."
I don't know why but this book took me like 4 days to even pick up, but once I did, I read the entire thing in a day. Flame in the Mist is a beautiful story of family, vengeance, growth, and magic. We follow Hattori Mariko as she's attacked by the Black Clan while on her way to Inako, the imperial city to meet her betrothed. Mariko disguises herself and infiltrates the Clan to discover who is responsible for the attack, and to gain some control over her life as well.
---
Things I Liked:
The entire story was a highlight of the richness and beauty of Japanese culture. I loved that so much from food, language, people, jobs, beliefs, was incorporated into the story. It made the world full and vibrant. Plus, the glossary in the back of the book was super helpful.
Mariko is an inquisitive and curious woman in a time where neither thing is particularly accepted as a womanly trait. She defies and questions expectation and she wants more that to be the docile wife of the Emperor's second son. Plus she's indecisive, and while that's not exactly a positive trait, I can relate.
I LOVED Mariko & Kenshin's relationship. As you should know by now, I'm a sucker for twin. And twins in fantasy is even better. Though we don't really get to see them interact much, you can tell how much they care for each other and believe in each other.
Ōkami was my favorite black clan member. He was dark and mysterious and super strong and smart. I love that he challenged Mariko and helped her train. I also didn't hate their relationship, which kind of surprised me because it didn't feel like there was a lot of build up and that usually annoys me, but I liked them.
---
Things I Didn't Like:
As you can see, I had a bit of a love-hate relationship with Mariko. In the second half of the book I found her to be a bit judgey and kind of annoying. She felt more passive, aside from her inventions. And her naivety was a real turn off, especially for her curious mind.
I wasn't the biggest fan of the magic in the story. I found the entire magic system to be unclear and lacked rules. Who can control magic, how is it controlled, what is the extent magic can be used? I feel like I didn't get any answers related to magic.
Like magic, the character motivations felt weak and lacked clarity.  I know most, if not all of my questions will be answered in book 2, but I would have liked to feel like there was some payoff and resolution in this book.
---
This Mulan-inspired reimagining was a fantastic blend of family, growth, and a hint of magic. I loved seeing Mariko come into her own. She was a well-developed characters with strengths and flaws, making her easy to relate to. I LOVE all twin relationships and I and so here for more twins in fantasy settings, because Mariko and Kenshin's relationship was my favorite. And I actually really liked the romance between Mariko and Ōkami. Overall this was a great story with excellent setup for book 2 and I an excited to see where this goes and and to get some answers!