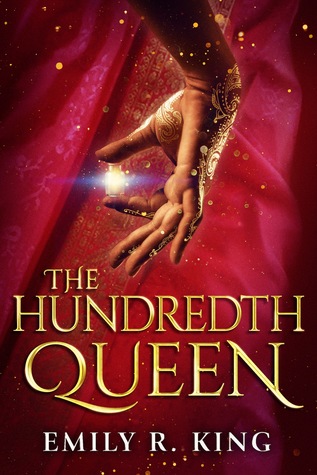 Title: The Hundredth Queen (The Hundredth Queen #1)
Author: Emily R. King
Rating: ★★★☆☆
Release Date: June 1, 2017
"Let the sky lead me, the land ground me, the fire cleanse me, and the water feed me."
---
The Hundredth Queen is an imaginative fantasy that blends beautiful imagery and persistent characters. We follow Kalinda, an orphan ward of the Sisterhood, as she's chosen to be the hundredth queen for the tyrant Rajah Tarek. Kali must fight for her place in the palace, while hiding a dangerous secret about herself. The Hundredth Queen is filled with mystery, romance, and a beautifully imagined world of power, control, and retribution.
---
Things I Liked :
Kali was a pretty solid main character. I love that she was inquisitive and hard working, determined to better herself and dedicated to the values of the Sisterhood. She tries to take all the agency she can in this heavily patriarchal society. Though she is naive and rash, she fights for her beliefs and those she loves, and that is always admirable.
I absolutely loved everything about the Bhutas. They were my favorite part of the story. I'm a sucker for elemental magic and I loved the power displays and the history they brought to the story. Bhutas >>>>>>.
I really loved the imagery in the story. Everything felt very vivid and clear, it made it super easy to become enveloped and invested in this world.
---
Things I Didn't Like :
Even though this story is clearly a fantasy novel, it was hard for me to not connect the fantasy setting to the real-world influences. It made the setting feel just slightly off, and not quite as distinct as I would have liked.
I'm not usually an insta-love hater. I understand it's place in the story and can usually get behind it, or at least be okay with it because I understand it's purpose. However, this was a little heavy on the insta-love. It was a little too much, a little too quickly. I like the relationship that develops between Kali and Deven, but the start was a little rushed for me personally.
While I loved the imagery, and it captivated me enough to become invested in the world, I would have liked some more information and more world building. Kali and others constantly mention the 5 godly virtues, but they are never mentioned all at once (and if they are I missed it – sorry). It would have been nice to establish the culture and religion more, so I could connect this with the world the characters live in. I felt like the actual tournament provided good action, but we only really knew 3 of the girls competing so the deaths held little impact, besides fueling Kali's anger. I also felt like Kali really didn't have enough time to learn/practice her powers. For the book to focus on her trying to understand what powers she possess, and what she's capable, we really didn't get to see her explore them much at all.
I felt like most of the side characters were not really developed outside of their relationship to Kali. I understand this is her story, but the other characters really just felt like they were along for her story, they didn't have much on their own.
---
The Hundredth Queen is a solid fantasy story, that brilliantly sets up it's sequel The Fire Queen, to have more action, more challenges, and more powers. This is a richly imagined story with fantastic magic wielders and slightly weak characters and world building. The Hundredth Queen is a good story, with an even more promising future.
I received a copy of the book from the publisher via Netgalley in exchange for an honest review.