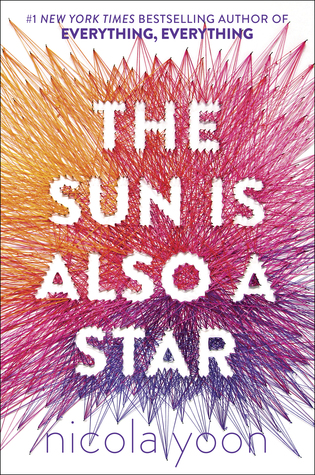 Title: The Sun is Also a Star
Author: Nicola Yoon
Rating: ★★★★★
Release Date: November 1, 2016
"Stars are important," I say, laughing.

"Sure, but why not more poems about the sun? The sun is also a star, and it's our most important one. That alone should be worth a poem or two."

---
The Sun is Also a Star follows Daniel Jae Ho Bae, a Korean-American senior preparing for college, and Natasha Kingsley, a Jamaican immigrant who's about to be deported. We see how these two meet, connect, and build a memorable connection on a high stakes day.
---
One thing I absolutely loved about The Sun is Also a Star is the tertiary character showcase moments. Like seeing how Irene, the immigration security guard struggled with isolation, or the man who almost hit Natasha with his car. Seeing glimpses of the lives of people as they intersect with the Daniel and Natasha was very unique and created a world that existed outside of Daniel and Natasha's interactions. These moments also acted to compliment or contrast what was happening to Daniel and/or Natasha. So while the brief forays into side characters helped to establish a complex world outside of Daniel and Natasha, they were not removed from the story completely.
The plot is also extremely relevant and relatable. From Daniel dealing with parental expectations and disapproval, and Natasha feeling helpless in her current situation, desperate to find a way out The Sun is Also a Star showcases real teenagers confronting emotions on a highly charged day. The story shows how much of our life happens by chance. If Daniel didn't hear the message from the crazy subway conductor he never would have followed Natasha into the record store. If Natasha's dad hadn't finally gotten a part in a play, he wouldn't have gotten a DUI leading to Natasha facing the threat of deportation. If Jeremy Fitzgerald had called the judge instead of meeting with his paralegal at a hotel, he might have been able to postpone Natasha's deportation order. The Sun is Also a Star shows that life is random and includes some element of chance. All contingencies cannot be accounted for and somethings are outside of your control, but you can live in the moment. Daniel and Natasha have almost an entire day full of moments with each other, and those moments are important and impactful.
While there was an element of 'insta-love' in the story I felt like it was done well. Daniel and Natasha's feelings were intense and exaggerated because of the outstanding circumstance they were in. I felt like they were acting on what they have the potential to be if the future was in their favor.
This story is a goldmine for beautiful quotes:
Maybe part of falling in love with someone else is also falling in love with yourself.
---
We are capable of big lives. A big history. Why settle? Why choose the practical thing, the mundane thing? We are born to dream and make the things we dream about.
---
---
Desperation translates into every language.
---
"People make mistakes all the time. Small ones, like you get in the wrong checkout line. The one with the lady with a hundred coupons and a checkbook.

Sometimes you make medium-sized ones. You go to medical school instead of pursuing you passion. 

Sometimes you make big ones.

You give up."
---
There honestly isn't anything that stood out to me as a negative, or something that detracted from the story. I'm sure this isn't a perfect story, because they don't exist, but this is a really beautiful and makes you feel all warm and fuzzy inside. Overall I really enjoyed The Sun is Also a Star and you should definitely pick it up. It would be a fantastic summer read!