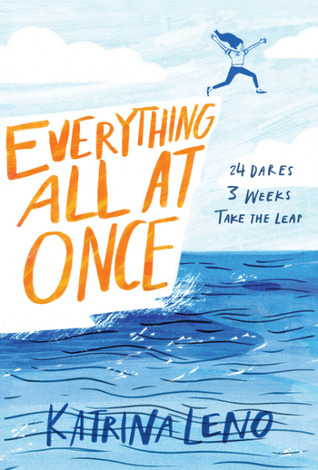 Title: Everything All At Once
Author: Katrina Leno
Rating: ★★★★☆
Release Date: July 25, 2017
"Books can make you live a thousand different lifetimes, a thousand different lives. Books can make you immortal."
---
Everything At At Once is a beautifully moving story of grief and finding happiness when you feel like there is none left. Following letters from her recently passed aunt, Lottie Reeves grows in courage and boldness in this fun and engaging contemporary with a bonus scavenger hunt feel!
---
Things I Liked :
Lottie and her family are charming and create a warm atmosphere that easily invites you into the story. Aunt Helen's letters are familiar and comforting. They further this wonderful sense of family in the story.
I also LOVED the hints of magic in the story and the whimsiness it added. It really elevated the story and made the entire story a grand event, which I'm sure Aunt Helen would have appreciated.
There was really excellent pacing in the story. Often when we have a character who is reading letters from someone, were begging them to hurry up and "keep reading, you'll get your answers," but here, Lottie doesn't dwell on the letters, or let them hold her back. Yes, she'll reflect on them, but they really serve to move the story and her development forward.
---
Things I Didn't Like :
I had a few clarity issues in the story. It took me forever to figure out who was the older sibling and who was the younger sibling between Abe and Lottie. A minor detail, but it was a little annoying for me personally. I also must have spaced, because it took me a while to realize they were in New England. I'm also a little confused about why Sam reached out to Lottie, was it just because of her relationship to Aunt Helen, or something else?
---
This was a super fun summer read, that packed a lot of emotion into a great discovery story. The characters and family shines, captivating you and drawing you into their world as they come to terms with a recent tragedy. You really connect with them and Aunt Helen as we follow these little adventures she left for Lottie. Everything All At Once is an emotional adventure that feels both familiar and magical.
---
I received a copy of the book from HarperTeen via Edelweiss in exchange for an honest review.