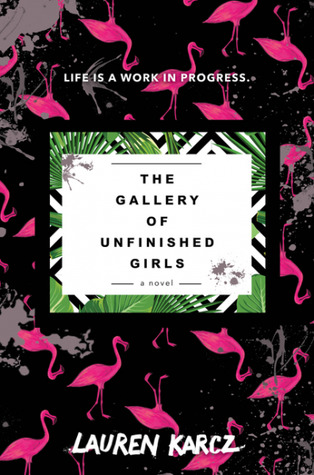 Title: The Gallery of Unfinished Girls
Author: Lauren Karcz
Rating: ★★★★☆
Release Date: July 25, 2017
"Maybe potential is all I have: energy, all held-up and trembling, waiting to be set free." 
---

The Gallery of Unfinished Girls has an ephemeral magic that surrounds you as you're reading the story. It wraps you in comfort and possibility and creativity. We follow Mercedes Moreno, struggling art student, as she tries to find her clarity after being unable to finish a piece over the past year. New neighbor, Lilia Solis, brings possibility with the mysterious Red Mangrove Estate, where Mercedes finds herself,and her art, flourishing. Now, Mercedes must make a choice between a perfect world of art and a much more complicated reality.
---
Things I Liked 
The writing is so clear and descriptive. It breathes, and creates a beautiful imagery that matched the artistry of the story. It's purposeful and intentional, but poetic and bright.
I loved the references to different artists, of all kinds – painters, musicians. I love how they discuss the importance of art and it's value. Art is connecting to others, to yourself, and it means something.
I really loved basically everything about Mercedes and her journey. She's frustrated and unsure in herself and her work, but she wants to move forward and progress. She longs for a future she's unsure of, but fears the change at the same time. As the story progresses, we see Mercedes really start to accept her history and what that means for her growth.
The magic in the story was so natural and effortless. It was so organically integrated with Mercede's life and the world around her. It was mysterious and mischievous and a character on it's own.
---
Things I Didn't Like 
Personal issue, but I couldn't stand how Victoria called Mercedes "dearie", it just felt so out of place and it pulled me out of the story.
I also found some transitions within chapters to be fairly abrupt. This might be due to reading an ARC and the natural demarcations in the chapters were not defined. But there were a few abrupt scene changes that made for some clunky reading, where I had to reorient myself in the story.
---
The Gallery of Unfinished Girls is a beautiful story of embracing your future and personal growth. Mercedes is a great character who is easy to relate to and embrace on her journey. The writing is beautiful, the characters are lively, and the setting is literally magical. The Gallery of Unfinished Girls highlights the magic that exists in our daily lives and the beauty that we find in ourselves and our potential.
I received a copy of the book from HarperTeen via Edelweiss in exchange for an honest review.