First Lines Fridays is a weekly feature for book lovers hosted by Wandering Words. What if instead of judging a book by its cover, its author or its prestige, we judged it by its opening lines?
Pick a book off your shelf (it could be your current read or on your TBR) and open to the first page
Copy the first few lines, but don't give anything else about the book away just yet – you need to hook the reader first
Finally… reveal the book!
---
The last day of my real life began with disaster. The ground gave a brief jerk, and everything shifted: a glass of water, the large family portrait, and my soul when I thought about all the lives affected by the abrupt movement of the world.
Find out the book below!
↓   ↓   ↓   ↓   ↓
↓   ↓   ↓   ↓   ↓
↓   ↓   ↓   ↓   ↓
↓   ↓   ↓   ↓   ↓
↓   ↓   ↓   ↓   ↓
---
Before She Ignites
by
Jodi Meadows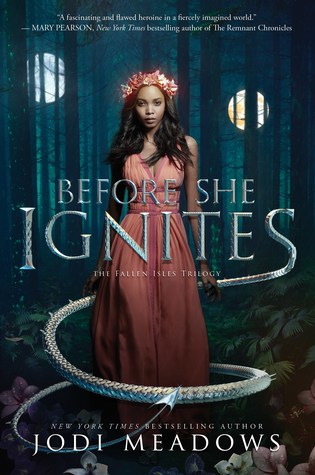 All I really needed to know about this book was that there was dragons involved. Which instantly sold me. I'm also pretty excited about the promise of politics and schemes. AND there's mental health rep (compulsive counting and anxiety) in a fantasy novel. SIGN ME UP. I'm at the very beginning so I don't a lot of thoughts yet, just excitement.
---
Before
Mira Minkoba is the Hopebearer. Since the day she was born, she's been told she's special. Important. Perfect. She's known across the Fallen Isles not just for her beauty, but for the Mira Treaty named after her, a peace agreement which united the seven islands against their enemies on the mainland.
But Mira has never felt as perfect as everyone says. She counts compulsively. She struggles with crippling anxiety. And she's far too interested in dragons for a girl of her station.
After
Then Mira discovers an explosive secret that challenges everything she and the Treaty stand for. Betrayed by the very people she spent her life serving, Mira is sentenced to the Pit–the deadliest prison in the Fallen Isles. There, a cruel guard would do anything to discover the secret she would die to protect.
No longer beholden to those who betrayed her, Mira must learn to survive on her own and unearth the dark truths about the Fallen Isles–and herself–before her very world begins to collapse.
---
Before She Ignites comes out September 12th, so keep an eye out for it!
Are you excited for this book? Have you already read it? What were your thoughts? Are dragons your favorite mythological creature? Share below.