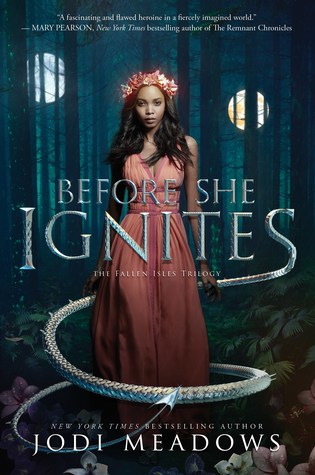 Title: Before She Ignites (Fallen Isles trilogy #1)
Author: Jodi Meadows
Rating: ★★★☆☆
Release Date: September 12, 2017
"I had knowledge. I had power. I had a voice.
And it was my duty to use them all."
---

Dragons and mental health rep in a fantasy is the recipe for a good book. Mira Minkoba is told she's special, so when she uncovers a dangerous secret that threatens the Treaty that keeps peace between the Fallen Isles, she thinks the council will listen. Betrayed and alone, Mira is imprisoned and must battle her own demons to discover the truths that will save her world.
---
Things I Liked 
I love that we got to see some mental health represented in a fantasy story. Mira has severe anxiety and compulsive counting. We see her struggle with both through the story and dealing with panic attacks as well. Mira is shamed by some for her anxiety and counting (especially by her mother) but she also uses her counting to her advantage – adapting and learning to survive in the Pit. I loved Mira's growth and acceptance of what she perceived as flaws, especially after feeling so helpless and having no agency for a lot of the story. It's always awesome to see more neurodivergent representation in YA literature, and it's inclusion in a fantasy setting is something I definitely want more of!
Dragons are always a bonus in any books. Now we don't get to see as many dragons as I was expecting and that was a bit disappointing, but they do have a presence in the story. They are upheld as vital to the peoples of the Fallen Isles. The dragons in the story are approached in a very scientific manner, with proper classifications, which was different but kind of cool. I would have liked more dragons/dragon interactions, but I liked what we got.
I feel like we got a very focused sort of worldbuilding in the story. We really only got worldbuilding that was relevant to the plot at hand, but I did like everything we learned. I liked learning about the Mira treaty and its implications for not only the seven Fallen Isles, but the mainland Algotti Empire. I like the bits of information we got about the different cultures and beliefs of the Fallen Isles – how some beliefs are transcendent like the Great Abandoning, and others are independent to their respective islands like how the people of Idris communicate or how the people of Bopha worship. I like that each of the Fallen Isles represent a god with their own views and ways of living.
Aaru is such a kind and gentle soul. He was probably my favorite character. He was so easy to latch onto and care for. I loved him a lot and I really loved the friendship that develops between Aaru and Mira.
---
Things I Didn't Like 
This was my first encounter with a Before/After format in a fantasy novel, and I have to say it wasn't my favorite. I felt like the format disrupted the story for me and kept all of the worldbuilding pieces farther apart. For me, worldbuilding is such a huge part of fantasy stories, that I wished it was more cohesive and fluid. I had to remind myself of what I knew, when the characters learned certain information, It just wasn't my preferred style.
The biggest issue I had with the story is that I wanted more. This goes beyond having some unanswered questions, which I'm fine with, but I felt like I was just missing some information. I didn't feel like we learned a lot about some of the Isles, like I said above we get targeted pieces of information that's relevant to what is happening to the plot in that moment, but it didn't help create a full world for me – it still felt very limited. I felt like we also didn't really know anything about the mainland, Algotti Empire, and why there was a conflict with the Isles. For noorestones being a pretty important feature in the story, I felt like they weren't explained very well, so when they behave differently I didn't know why I was supposed to care. I also felt like the political system wasn't clearly defined. It seemed like there were ruling families, like Mira's, but also council's for each Isle that seemed to have more power. I couldn't tell if Mira's father was a figurehead and the Luminary council held the real power, or if they were more underhanded and slowly gained more control.
---
While I did enjoy parts of the story, I was underwhelmed by the whole thing. I love Mira's journey and the neuordivergent representations. And dragons are always a plus. But I wanted more from world, the politics, the characters. Before She Ignites is a fun story in an exciting world, and I look forward to learning more about it in book 2!
I received a copy of the book from Katherine Tegen Books via Edelweiss in exchange for an honest review.