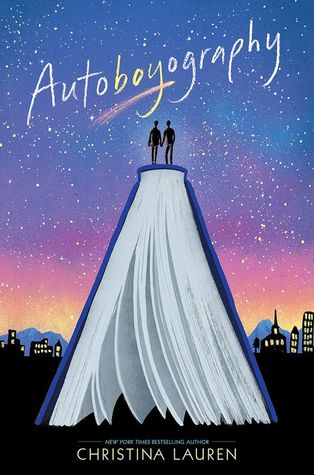 Title: Autotboyography 
Author: Christina Lauren
Rating: ★★★★☆ (4.5 Stars)
Release Date: September 12, 2017
It opens with a boy and a girl, a dare, and crumbs on a bed.
But where it really begins is with a double take and the words "His smile ruins me."
---
This was such a fantastically happy book. I gave me all the warm and fuzzy feeling that I want from a contemporary romance. But there was a lot of heart and beautiful character moments as well. Which I really appreciate. Autoboyography follows Tanner Scott, a bisexual main character who is back (temporarily) in the closet after moving from California to a majority-Mormon Utah town three years earlier. Tanner is ready to coast through his last semester of high school, but his best friend dares him to take the prestigious "Seminar" where students attempt to write a complete draft for a novel in 4 months. Tanner thinks it will be a breeze, but complications arise when he meets the class mentor Sebastian Brother, the Mormon prodigy who sold his own Seminar novel the year before.
---
Things I Liked 
I really loved Tanner, and related to him quite a bit personality wise. He's a very go-with-the-flow kind of person and I can relate. He's also a bit of a procrastinator, but he is smart and dedicated to school. I LOVED that we get explicit conversations about Tanner being bisexual, and what being bi means for him vs what other people's expectations are for him being bi.
Tanner's parents were fantastic and so incredibly supportive. They were so lovely and caring and involved. I appreciated that they weren't absent parents, especially given they both have demanding jobs that could have kept them off page. Tanner has a fantastic conversation with his dad about balancing friendships and romantic relationships and it was one of my favorite moments in the entire book!
I absolutely LOVED the romance in the story. Tanner and Sebastian are so cute and adorable and make me feel all the feels. Their relationship obviously isn't smooth sailing and there are fights and frustrations, but I was completely invested in every minute of it – rooting for them and cheering them on.
My heart went out to Sebastian for the entire book. While I may have related to Tanner more, Sebastian had my heart. His journey in the story is both heartbreaking and inspiring. Coming from a deeply religious background, where his church community doesn't tolerate same sex relationships, Seb has to deal with some internalized homophobia in himself and his family. Following him on his journey and seeing his growth was amazing. I was just so proud of him and where he ended up.
There was this pure jovial humor throughout the story that was really engaging and made connecting to the characters incredibly easy. And while the humor made the story really easy to read, it didn't take meaning away from any of the more serious scenes. It was very well balanced.
---
Things I Didn't Like 
I would have liked to see more from Autumn and Tanner's friendship. I feel like we didn't really get much from them in the first half, and there's some drama in the second half that made their interactions a little wonky. I feel like there were definitely some situations where Tanner could have used a friend and it would have developed their relationship, and Autumn as a character, further.
---
This was just the one of the best contemporary books I've read in awhile. We get a very honest look at how sexuality and religion intersect in people's lives, and the struggles of reconciling both identities. Autoboyography is pitched as Fangirl meets Simon vs. the Homo Sapiens Agenda, and if you like either of those books, you'll probably like this as well. It's a well crafted and humorous coming of age story, with heart and a swoon worthy romance you're guaranteed to love.
I received a copy of the book from Simon & Schuster BFYR via Edelweiss in exchange for an honest review.