Title: Black Bird of the Gallows  
Author: Meg Kassel
Rating: ★★★☆☆ (3.5 Stars)
Release Date: September 5, 2017
"I hold my breath and watch the crow glide away. It melts into the blackness, silent as a ghost. Lonely as the night. Dark as a boy's eyes."
---
I am super excited to be taking part in the blog tour for this uniquely magical book! Make sure you follow along with the rest of the tour HERE! And a million thank yous to Chapter by Chapter for organizing and hosting this tour!
---
Synopsis
A simple but forgotten truth: Where harbingers of death appear, the morgues will soon be full.
Angie Dovage can tell there's more to Reece Fernandez than just the tall, brooding athlete who has her classmates swooning, but she can't imagine his presence signals a tragedy that will devastate her small town. When something supernatural tries to attack her, Angie is thrown into a battle between good and evil she never saw coming. Right in the center of it is Reece—and he's not human.
What's more, she knows something most don't. That the secrets her town holds could kill them all. But that's only half as dangerous as falling in love with a harbinger of death.
---
---
Review
Black Bird of the Gallows is such a unique fantasy story! We follow Angie Dovage as she gets to know her new neighbor, Reece Fernandez in a town that's primed for disaster. With the town's crow and bee populations increasing, Angie thinks Reece might have answers. The atmosphere is dark and the world building is fantastic, Black Birds of the Gallows is a reading experience you won't soon forget.
---
Things I Liked 
I really love all the mythology we get in the story! We learn so much about the Harbingers and the Beekeepers; we get their origins,how they live, what their life is like, and I LOVED it all. It was so unique and really kept me turning the pages. I was hooked!
I also really enjoyed the creepy vibe the story has going on. There's just a really great atmosphere to the story that is dark and gritty and a bit dangerous. The story does not shy away from danger and aggression. And really tries to hook you with mystery in the beginning of the story. The overall vibe makes this a seriously perfect book for fall.
---
Things I Didn't Like 
I was completely satisfied with the world building in the story, it just felt like it took a little too long to get to get to all the fantastic world building. We really get most of the world building at around the halfway mark. I definitely would have been hooked into the story quicker if I got some worldbuilding in the beginning.
I thought that Kiera really lacked depth. She was just another incarnation of the bratty mean girl. She never really seemed like a character to me, so her semi resolution with Angie didn't carry much weight.
---
Even though I didn't connect with the characters right away, the world building made this book unforgettable. This is such a unique concept that stands out in a sea of paranormal creature books. It was so easy to read, and I just can't get enough of the mythology. Black Bird of the Gallows is a strange but compelling tale of bravery, sacrifice, love, and tragedy.
---
---
About the Author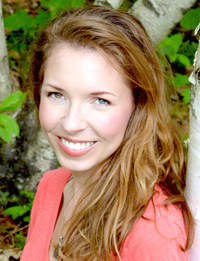 Meg Kassel is an author of paranormal and speculative books for young adults. A New Jersey native, Meg graduated from Parson's School of Design and worked as a graphic designer before becoming a writer. She now lives in Maine with her husband and daughter and is busy at work on her next novel. She is the 2016 RWA Golden Heart© winner in YA.
Website | Twitter | Facebook | Goodreads
---
Giveaway
Three (3) winners will receive A Black Bird of the Gallows canvas tote bag (11"x14") which includes a custom made crow pendant and ball chain, bookmark and stickers, $10 Amazon Gift Card (INT)
And don't miss out on this t-shirt giveaway for Black Bird of the Gallows by Meg Kassel from Entangled teen. The first 100 reviewers on Amazon can get a t-shirt!
---
Follow the Tour
Make sure you don't miss out on what these amazing bloggers have to say about this unique and addicting paranormal read!
---
PURHASE LINKS: 
Make sure you grab your copy of Black Birds of the Gallows today!
Amazon | Amazon Australia | Amazon UK | Amazon Canada | B&N | iBooks | Kobo
I received a copy of the book from Entangled Teen via NetGalley in exchange for an honest review.