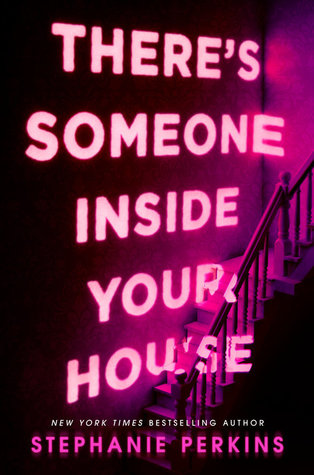 Title: There's Someone Inside Your House
Author: Stephanie Perkins
Rating: ★★☆☆☆ (2.5 Stars)
Release Date: September 26, 2017
Makani wondered why discussing a tragedy – consuming every story about it – was often comforting? Was it because tragedies manifested a sense of community? Here we are, all going through this terrible thing together. Or were tragedies addictive, and the small pleasures that came from them a signal of a deeper problem?
---
This was pitched as Scream meets YA and I was super excited, because Scream is my all time favorite horror movie and I've liked Stephanie Perkins' books in the past, but overall I was left feeling a bit underwhelmed. In There's Someone Inside Your House, we follow students at Osbourne High School as classmates are being picked off by a serial killer. To discover the killer and find the next target, the students must look into their past and confront their secrets before it's too late.
---
Things I Liked 
The romance was actually really sweet and cute. I liked Mikani and Ollie, their relationship was one of my favorite parts of the story. They had great interactions and I liked all their scenes together. Plus, hanging out with Mikani's grandmother was fantastic!
There was actually some suspenseful moments, this might have been helped by the fact that I was reading this at 3am. I liked the intense moments and the darker grittier scenes when the killings were happening. A few were a little ridiculous, but mostly they kept me engaged.
I actually really loved the beginning of the story, and it hooked me right away. I love that the school's play was Sweeney Todd – it set a great atmosphere, along with the Halloween time. And I really liked the introduction to the killer.
---
Things I Didn't Like 
Alex, one of Mikani's best friends, was super annoying to me the whole time. We just clashed and I didn't particularly care for her.
I took way too long to figure out what was up with Mikani's mysterious past. And once we finally figured out what happened it was a let down, and just really took me out of what was happening in the main plot. Plus her parents were atrocious people.
I went into this expecting horror, or at least YA horror, and I feel like I got Disney channel horror. It wasn't bad, I just wanted a little more. Like I said above, I did find some moments to be suspenseful, but there was this haze of romance that kept it from getting really threatening.
The killer reveal happens around the halfway marks and I was like, WHO? Then I was like, who cares? I wasn't really blown away by the killer reveal, and I thought the motive was a little weak.
---
This was really a mixed bag for me: I loved the diversity we get in the characters (Mikani is black and native Hawaiian; Darby is trans), and the romance between Ollie and Mikani was probably my favorite part. But, I don't really want the romance to be my favorite part in a horror story. This felt more like a contemporary with a serial killer side plot. It was still a pretty fun read that I flew through, even if a few of the characters did annoy me. There's Someone Inside Your House was a good book to turn you in the direction toward fall and get you ready for Halloween, before the real spooky stuff gets here.
Trigger Warning for blood, gore, violence, hazing


I received a copy of the book from Dutton Books FYR via Edelweiss in exchange for an honest review.