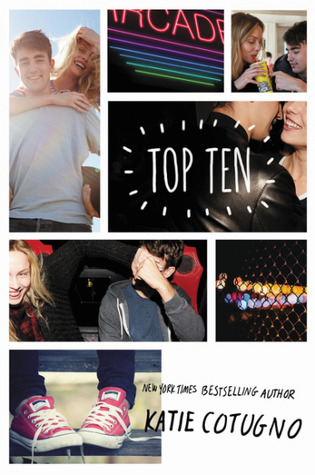 Title: Top Ten
Author: Katie Cotugno
Rating: ★★★★☆
Release Date: October 3, 2017
"Wait, you want to date?"

"Not with that tone in your voice, I don't."
Katie Cotugno's books always have a way of surprising me. She develops these realistic and flawed individuals and we follow them through their daily lives. We see the beauty, tragedy, and monotony of their lives and get to experience it along side them. Top Ten is another solid instalment that showcases the importance of friendship, what it means when that friend becomes more, and what happens if it doesn't work out. 
---
Things I Liked:
There was this overwhelming nostalgic feeling, while being so incredibly realistic, that made reading the story incredibly easy. It was nice looking back and reminiscing about Gabby and Ryan's friendship with them as we see some of the more pivotal moments of their high school experience.
There were some surprises that I was not expecting. I loved how Gabby and Ryan's relationship develops. It seems so organic, because we have followed them all this time and come to really know them.
I had no idea going into the book that there was LGBT representation, so it was really great to learn that Gabby was bisexual!
For me the absolute highlight of this book was the friendship between Gabby and Ryan. Their relationship is so open and honest, but they also have moments when they fight and get mad at each other. They have one of the most genuine friendship I've seen in a long time. You couldn't help but root for them and wish them all the happiness.
---
Things I Didn't Like:
I wasn't the biggest fan of how time was framed. I really like that the story was bookended, but in between there was a lot of back and forth and could get confusing. Especially with the second-half of the school year coming before the first-half.
Overall this was a really satisfying and unique contemporary. I loved the focus on friendship and it's importance. And how friendship are just as important as romantic relationship, and can be more meaningful. Gabby and Ryan's story was beautiful and heartbreaking and loving. I expect nothing less from Katie Cotugno.
I received a copy of the book from Balzer + Bray via Edelweiss in exchange for an honest review.