Title: The Nowhere Girls 
Author: Amy Reed
Rating: ★★★★★
Release Date: October 10, 2017
"The things is," Rosina says, "people don't want to hear something that'll make their lives more difficult, even if it's the truth. People hate having to change the way they see things. So instead of admitting the world is ugly, they shit on the messenger for telling them about it."
---
Synopsis
Who are the Nowhere Girls?
They're everygirl. But they start with just three:
Grace Salter is the new girl in town, whose family was run out of their former community after her southern Baptist preacher mom turned into a radical liberal after falling off a horse and bumping her head.
Rosina Suarez is the queer punk girl in a conservative Mexican immigrant family, who dreams of a life playing music instead of babysitting her gaggle of cousins and waitressing at her uncle's restaurant.
Erin Delillo is obsessed with two things: marine biology and Star Trek: The Next Generation, but they aren't enough to distract her from her suspicion that she may in fact be an android.
When Grace learns that Lucy Moynihan, the former occupant of her new home, was run out of town for having accused the popular guys at school of gang rape, she's incensed that Lucy never had justice. For their own personal reasons, Rosina and Erin feel equally deeply about Lucy's tragedy, so they form an anonymous group of girls at Prescott High to resist the sexist culture at their school, which includes boycotting sex of any kind with the male students.
---
---
Review
I really loved this book so much! The Nowhere Girls is empowering and inspiring, and I am filled with so much love and respect for other women after reading it. We follow misfits Grace Salter, Erin DeLillo, and Rosina Suarez as they come together to challenge the rape culture that forced a girl to move out of town after accusing three popular students of rape. The Nowhere Girls grows into a movement that changes the lives of the student body as more girls come together and support each other.
---
Things I Liked 
I really loved Grace Salter, she's the first main character we're introduced to and I immediately liked her. She feels incredibly amounts of empathy and truly wants the best for people and for justice and fairness to be realities, but she is prepared to fight for them.
Erin DeLillo was another of the main characters and I loved her so SO MUCH. I loved that we got to see a main character with Asperger's. We really get to know her, not just who she is on the spectrum. We see how she views relationships and lives her daily life – what she loves, what she fears. I loved her passion for science (something we do not share, but I could feel how much she loved it). I loved how she talked about how asperger's presents itself differently in girl and goes overlooked. I love that she challenges the idea that people on the spectrum are emotionless and lack empathy – they just process and confront situations differently. Erin was just awesome and so strong and amazing.
Rosina Suarez is so fantastic! She is so unapologetic and brave. I love that she completely lets Erin be herself and supports her – their friendship was fantastic. She is so selfless for her family even when she's unhappy. She also has a very adorable wlw romance with former cheerleader, Melissa that is so sweet and cute.
The friendship that develops between the 3 main girls, Grace, Rosina, and Erin, was awesome and I loved every minute of it. The support that develops from the Nowhere Girls was inspiring and gave you hope that things can get better.
I really loved all the unnamed POVs of the Nowhere Girls. They were all clear and distinct, but create a vibrant and unified story of trying to take agency and power in a system that works against them. The group talked about power, choice, double standards, solidarity and we see how girls experiences and beliefs differ – and even see some talking about the white privilege in the group, how they are seen as powerful crusaders not angry black women. The group is a very collaborative movement with no one trying to overshadow others. And I loved seeing girls coming together to support other girls in the only way they knew how. I also liked that we get to see them call out guys for doing nothing as perpetuating rape culture, not just guys who rape, and some guys actually acknowledge this and change.
I really loved Grace's mom! I love that she talked about acceptance for ALL people. Her outlook on faith and religion and the necessity of change was great and really resonated and inspired Grace to do what she felt was right – and take action.
---
Things I Didn't Like 
There was an instance of misgendering a character's trans sibling that felt unnecessary. It seemed like a lazy slip and wasn't needed.
The gross blog of "The Real Men of Prescott" was infuriating! It was filled with rape apologists and misogynistic language and made me want to punch someone in the face. The boys will be boys mentality and the sheer entitlement is enough to make anyone's blood boil. Thankfully, this book is about challenging all of these beliefs and actions, but it's hard to read about this and realize people like this actually exist.
---
The Nowhere Girls is such an important book that confronts and challenges rape culture and misogyny, while giving young girls the power of choice and agency. I loved the strong female friendships that develop and the bravery we see from so many characters. This was such a great book and I can't wait to read more from Amy Reed.
Trigger warning for rape and sexual assault
---
---
Quotes
   
---
About the Author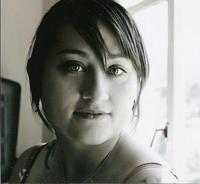 Amy Reed was born and raised in and around Seattle, where she attended a total of eight schools by the time she was eighteen. Constant moving taught her to be restless and being an only child made her imagination do funny things. After a brief stint at Reed College (no relation), she moved to San Francisco and spent the next several years serving coffee and getting into trouble. She eventually graduated from film school, promptly decided she wanted nothing to do with filmmaking, returned to her original and impractical love of writing, and earned her MFA from New College of California. Her short work has been published in journals such as Kitchen Sink, Contrary, and Fiction. Amy currently lives in Oakland with her husband and two cats, and has accepted that Northern California has replaced the Pacific Northwest as her home. She is no longer restless
Website | Facebook | Goodreads | Twitter 
---
Giveaway
One copy of The Nowhere Girls (US Only)
Click HERE to enter the giveaway!
---
Follow The Tour
A million thank yous to The Fantastic Flying Book Club for organizing and hosting the tour for this amazing book! Make sure you follow along with the rest of the tour schedule to see more about this empowering book  from some amazing bloggers!
Check out the full tour schedule here!
---
Purchase links:
I received a copy of the book from Simon Pulse via Edelweiss in exchange for an honest review.