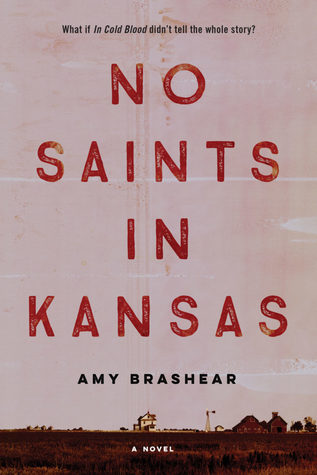 Title: No Saints in Kansas
Author: Amy Brashear
Rating: ★★☆☆☆
Release date: November 14th
"People always think highly of the dead when they're dead. It's definitely not how they thought of them when they were alive."
No Saints in Kansas is a reimagining of Truman Capote's In Cold Blood. We follow Carly Flemming as she and the town come to grips with the grisly murders of the Clutter family and trying to find out what happened and why.
Things I Liked :
This book had really short chapters, which I always love. They let me really get into the story quickly and fly through it.
I like that when we started off the murders have already occurred. This helps us get right into the action and hook us in the beginning. I thought the beginning of the story was strong.
The writing feels emotional and reactionary to events happening. It's easy to connect with and it draws you in!
Things I Didn't Like :
The characters are introduced with little backstory and discussed like we already know them. We get some info on them but I always felt a little lost when we met a new character. And the information we get is from tangent backstories, like their first meeting or something else that is trivial.
Carly wasn't the smartest when looking into the murders. She constantly made bad decision after bad decision. She was often assisted by Mary Claire and Landry and then abandoned by them. It became a repetitive cycle of doing something stupid then being ignored, making up, and repeat.
Along with bad decisions, Carly was pretty unlikeable to me. She constantly make the murders about herself and her relationship to Nancy. She was upset that everyone else was talking to Truman Capote and she hadn't got to tell her story. When she does meet with him, she's upset he doesn't really care about her.
I felt like the ending was unsatisfying. Everything came together quickly and neatly. There wasn't much tension, besides the petty high school drama, even though Carly and her family was ostracized by the town and physically and verbally threatened.
This book was ok, but largely forgettable. I liked where the story started and the intrigue of the murders in the quiet, unassuming town, but I wanted more character development, more tension, more sleuthing. This book had a lot of potential and is a really quick read, but it's not really one that will stay with you.
I received a copy of the book from the Soho Press via Edelweiss in exchange for an honest review.