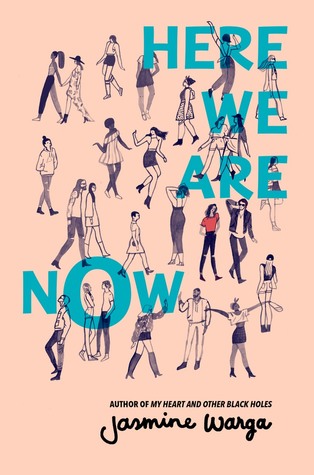 Title: Here We Are Now
Author: Jasmine Warga
Rating: ★★★☆☆ (3.25 Stars)
Release Date: November 7, 2017
"But I believe strongly that we all have multiple versions of ourselves. And the true test of love is learning to accept all of those versions, even when it's messy.
Actually, especially when it's messy."
---
I LOVE family-centric contemporary stories. They are so easy for me to get invested in and I love seeing the relationships form and evolve. I just love them so much. Here We Are Now was a really good family centric contemporary, that also really highlighted opening yourself up and conquering your fears – whatever they may be. We follow Taliah as she meets her rockstar dad Julian Oliver for the first time, when he asks her to come visit his dying father. Tal learns more about her mom, Julian, and herself than she ever expected and she has to learn to reconcile these new truths with what she's always believed to be true.
---
Things I Liked 
I really loved the flashbacks we get throughout the story. They show personality, relationships, and I love that we get to see more of Lena's Jordanian culture. They really helped develop the characters and provide more backstory and depth. They were probably my favorite part of the story.
I really liked a lot of the characters! I thought Harlow was a great friend, who tried to help Taliah grow and open up about things, even if she was uncomfortable. Debra, Tal's grandmother is so kind and insightful and warm. She gave Tal some really great advice that she needed to hear, but she was never pushy.
I also liked the moments we get to see Tal and Julian learning more about each other. These pure family moments are the ones that really shined for me and gave life to the story. I also really liked that they bonded over music!
I also really love the cover. I love the color palette, I love the illustrations, I love the font. I love everything!
---
Things I Didn't Like 
I have kinda mixed feelings about Taliah. I understand that Tal's been put in this weird position and has a lot of confusing and probably conflicting feelings, but I thought she was being purposefully difficult a few times. But she did apologize for that and for being hard to get to know – and I liked that. I think overall I was just a little indifferent to her, which was unfortunate.
I feel like the budding romance between Tal and Julian's neighbor Toby, was pretty unnecessary, and mostly just took page time away that could have been used to further develop family moments. I mean it was cute, but I didn't really care about it much. A romance wasn't what I was looking for in this particular story.
---
This such an easy book to get invested in. I loved seeing the family moments and Julian and Tal becoming closer, and while I would have liked more development in the family relationships, I was satisfied with what I got. Here We Are Now is a lovely story of family and discovering where you fit in.
I received a copy of the book from Balzer + Bray via Edelwiess in exchange for an honest review. Quotes are taken from an ARC and are subject to change.