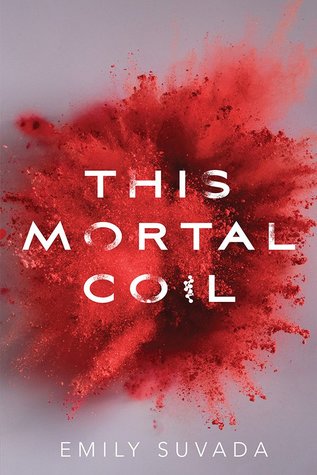 Title: This Mortal Coil
Author: Emily Suvada 
Rating: ★★☆☆☆
Release Date: November 7, 2017
"There's no such thing as right anymore – that ended when the plague hit. Sometimes we need to do awful things to stop worse things from happening. You're still thinking in terms of right and wrong, but this is war, and the rules have changed."
---
I don't think I've ever had such mixed feelings about a book in my entire life. On one hand, I LOVED so much of it – the world building, the high stakes, the grey morality, the desperate tone – all things I really enjoyed. However, one twist left me feeling pretty weird, and created this uncomfortable feeling that lasted the rest of the book. Regardless, This Mortal Coil was an experience that I will not soon forget. I will be talking about spoilers in the "Things I Didn't Like" section, because the revelation of a twist at the end of the book is where my mixed feelings for the story originate. 
We follow gene-hacking genius, Catarina Agatta, as she searched for the key to rebuild a vaccine to the deadly Hydra virus and stay out of the clutches of Cartaxus – the shadow organization that captured her father two years ago. With the help of a childhood friend and a few reluctant partners in the form of Cartaxus soldiers, Cat discovers shocking secrets about her past and the world she thought she knew.
---
Things I Liked 
I really love all the sciencey and genetics aspects in the story. Color me shocked because science really isn't my thing, but it was all so interesting and believable. I really liked learning all about DNA and genetics. I thought the gene-hacking things was really cool, and I liked that each child who was a part of the Zarathurstra Initiative (Cole, Leoben, Jun Bei, Anna, and Ziana) has some special capability related to their DNA. It was all very compelling and kept me engaged.
There was this creepy and anxious overall tone that created tension and uneasiness throughout the whole story, and made it a perfect book to read during this time of the year. There are also SO MANY unexpected revelations. The threats and dangers all seem very real making a high stakes environment that makes you want to keep reading.
This world is so morally grey, and I was so here for it. In this world, survival is paramount and most people are willing to do anything to ensure they survive. There are lies and schemes and underhandedness that all blur the lines between right and wrong. I loved seeing Cat confronting this reality that she wanted to ignore.
With such high stakes and fast action plot, I was worried the characters would fall to the wayside. But I really became invested in the characters. My heart kept going out to characters and they drew emotion from me.
---
Things I Didn't Like 
The book did feel a little too long. I don't necessarily feel like anything was filler-y, but some parts did drag a bit.
The romance started to feel a little forced the more we got into the story. I felt like there were some plot choices made, just to directly influence the romances, and is started to get a little heavy handed.
*SPOILERS*
Now for the big twist that made for feel kinda weird. At around the 90% mark we learn that Cat is actually Jun Bei. Jun Bei's ability is to be able to mimic and change her DNA, and Dr. Lachlan Agatta made her into Cat, erasing all memories of her early life. This reveal made me feel pretty uncomfortable – it felt like we got rid of an Asian American character in Jun Bei, and turned her into a white character, Catarina. I know Lachlan talked about how the knockout kids that were part of the Zarathursa program were born from plague DNA, and we never really get to actually see Jun Bei, but it still made me feel weird. I understand the Cat is fundamentally, and genetically, a different person from Jun Bei. They have different DNA and a different mind, but Cat could hear Jun Bei's voice in her head, she started to remember her life as Jun Bei, interacting with the other kids from the program. After this reveal, I had this lingering weird feeling that made me enjoy the last 10% of the book less than I expected, given that I really enjoyed everything leading up to it.
*END SPOILERS*
---
I still have kinda mixed feeling about this, and I don't know if I'm overthinking things or what. I really loved so many aspects of the story, and it was an addicting read that kept the pages turning. Unfortunately, the ending was a let down for me and sort of clouded my overall view of the book. Overall, my thoughts are a mess and I don't really know what I'm feeling.
Trigger Warning for gore and graphic medical procedures
I received a copy of the book from Simon Pulse via NetGalley in exchange for an honest review.
Have you read This Mortal Coil? What is your favorite genetics-based sicfi story? Share below!