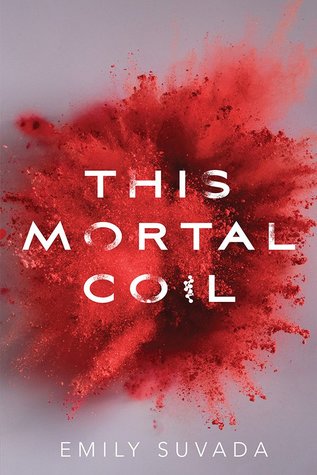 Title: This Mortal Coil
Author: Emily Suvada
Publisher: Simon Pulse
Release Date: November 7, 2017
I'm super excited to be participating in the Sunday Street Team blog tour for THIS MORTAL COIL by Emily Suvada. This science fiction book was a wild ride for me, filled with so many twists and compelling characters!
---
Synopsis
Catarina Agatta is a hacker. She can cripple mainframes and crash through firewalls, but that's not what makes her special. In Cat's world, people are implanted with technology to recode their DNA, allowing them to change their bodies in any way they want. And Cat happens to be a gene-hacking genius.
That's no surprise, since Cat's father is Dr. Lachlan Agatta, a legendary geneticist who may be the last hope for defeating a plague that has brought humanity to the brink of extinction. But during the outbreak, Lachlan was kidnapped by a shadowy organization called Cartaxus, leaving Cat to survive the last two years on her own.
When a Cartaxus soldier, Cole, arrives with news that her father has been killed, Cat's instincts tell her it's just another Cartaxus lie. But Cole also brings a message: before Lachlan died, he managed to create a vaccine, and Cole needs Cat's help to release it and save the human race.
Now Cat must decide who she can trust: The soldier with secrets of his own? The father who made her promise to hide from Cartaxus at all costs? In a world where nature itself can be rewritten, how much can she even trust herself?
---
---
Aesthetics
Catarina Agatta is our resident gene-hacking badass. She is incredibly smart and loyal, and she's on a mission to find a cure for the deadly Hydra virus taking over the world.
---
Cole Franklin is a Cartaxus soilder who helps Cat on her journey. He's a blackout solider with a mysterious past, looking for answers to questions he doesn't know.
---
This books has so much fantastic technology elements about DNA, hacking, and manipulating the human gene. It was so interesting, and all felt very believable. And coming from a non-sciencey person, the scientific elements were some of my favorite parts.
---
---
About the Author
Emily Suvada was born and raised in Australia, where she went on to study mathematics and astrophysics. She previously worked as a data scientist, and still spends hours writing algorithms to perform tasks which would only take minutes to complete on her own. When not writing, she can be found hiking, cycling, and conducting chemistry experiments in her kitchen. She currently lives in Portland, OR, with her husband.
Blog | Twitter | Goodreads | Facebook | Instagram
---
Giveaway
One winner will receive: a signed ARC of This Mortal Coil [INTL]
Click HERE to enter the giveaway!
---
Follow the Tour
Thank you so much to Aditi @AThousandWordsAMillionBooks , Nori @ReadWriteLove28 , & Sara @AGingerlyReview for organizing and hosting the tour for this intense book! Make sure you check out the other stops on the tour to see what these amazing bloggers had to say about THIS MORTAL COIL!
11/5 Tour Stops
Interview – Megan Manzano
Review  – Books N Calm
Review – Dani Reviews Things
Interview – Fly Leaf Chronicles
Unique Post – Book Stacks Amber
11/12  Tour Stops
Guest Post – Mikayla's Bookshelf
Interview –Reading is Dreaming with Eyes Wide Open
Review – Sarcasm and Lemons
Unique Post – Downright Dystopian
Review – Here's To Happy Endings
11/19  Tour Stops
Interview – Books, Boys, and Blogs
Review – Emily Reads Everything
Review – The Book Corps
Unique Post – Life of a Literary Nerd
Review – Bay in Wonderland
11/26 Tour Stops
Review – A Gingerly Review
Review –  Pretty Deadly Blog
Interview – Library of a Book Witch
Guest Post – The Hermit Librarian
---
Have you read THIS MORTAL COIL? What did you think? What's your favorite scifi read?
Make sure you grab your copy of THIS MORTAL COIL!
Amazon | B&N | Book Depository