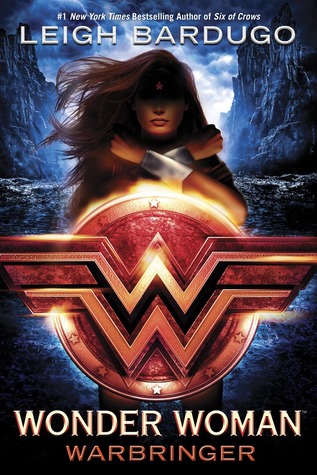 Title: Wonder Woman: Warbringer (DC Icons #1)
Author: Leigh Bardugo
Rating: ★★★☆☆ (3.75 Stars)
Release Date: August 28, 2017
"I'm done being careful. I am done being quite. Let them see me angry. Let them hear me wail at the top of my lungs."
---
I was super excited for the DC Icons series when it was announced, and I have to say, Wonder Woman: Warbringer did not disappoint. It was an action-filled story of friendship and becoming your own hero. We follow Diana Prince as she leaves Themyscira, after rescuing a would-be drowning victim – Alia Keralis, who has a past far more complicated than either girl realizes. Diana faces exile as she, Alia, and a few others embark on a journey to battle bloodlines and fate in a quest to save the world.
---
Things I Liked 
I really loved seeing the worldbuilding of Themyscira and the heavy influence of Greek mythology. I love all things Greek mythology, so I loved talking about the god, goddesses, and heroes that are a part of the history. Though I would have liked to spend a bit more time on Themyscira with the Amazons.
I'm always here for female friendships, and seeing Diana and Alia's relationship develop was beautiful. I loved seeing the parallel journey that each girl was going through, and how that helped them grow closer as well. They fully trust in each other and want the best for each other. Nim, Alia's best friend, makes this duo and trio with her sparkling personality. The three girls truly complimented each other, and I loved it.
There was some really great action scenes in this story, as one would expect in a superhero-inspired story. The action really showcased Diana's power and strength, both physically and mentally.
This is so unimportant in the overall scheme of the story, but I loved that the chapter heading images were different for Diana's POV and Alia's POV. It really made it clear without having to label the chapters with the character's name.
This quote
She did not know what the future held, only that the world – full of danger, and challenge, and wonder – was waiting to be discovered.
She ran to meet it.
---
Things I Didn't Like 
Personal issue, but for me the chapters felt a bit long. Especially in the beginning, the story just seemed to drag a bit and that made it a little tough to get into. But once I got about 100 pages in, I was fully invested.
I thought the villain reveal was a little weak. The character took a bit of a fanatical turn which always frustrated me. I liked seeing the setup for the reveal in retrospect, but I feel like it could have been done better.
---
This was such a fun actiony book, that was filled with a lot of great characters. Even though the reveal was a bit of a let down, the camaraderie and hope in the story was beautiful. Wonder Woman: Warbringer was a great start to the DC Icons series and I can't wait to see what comes next!
I received a copy of the book from Blogging for Books in exchange for an honest review.