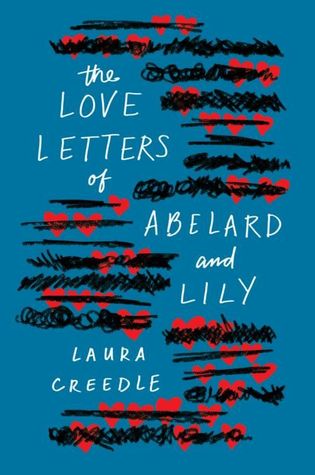 Title: The Love Letters of Abelard and Lily
Author: Laura Creedle
Publisher: HMH Book For Young Teens
Release Date: December 26, 2017
I'm super excited to be participating in the Sunday Street Team blog tour for THE LOVE LETTERS OF ABELARD AND LILY by Laura Creedle. This gorgeous contemporary book was filled with so many adorable moments between two compelling characters!
---
Synopsis
When Lily Michaels-Ryan ditches her ADHD meds and lands in detention with Abelard, who has Asperger's, she's intrigued—Abelard seems thirty seconds behind, while she feels thirty seconds ahead. It doesn't hurt that he's brilliant and beautiful.
When Abelard posts a quote from The Letters of Abelard and Heloise online, their mutual affinity for ancient love letters connects them. The two fall for each other. Hard. But is it enough to bridge their differences in person?
This hilarious, heartbreaking story of human connection between two neurodivergent teens creates characters that will stay with you long after you finish reading.
---
---
Favorite Love Letters Through History
Because Abelard and Lily bond over their shared love of  love letters, The Love Letters of Abelard and Heloise in particular, I thought I'd share excerpts of some of my favorite love letters with you today!
Ernest Hemingway to Marlene Dietrich
"I can't say how every time I ever put my arms around you I felt that I was home."
Read full letter HERE.
Napoleon to Josephine
"My happiness is to be near you."
Read full letter HERE.

Georgia O'Keefe to Alfred Stieglitz
"Dearest — my body is simply crazy with wanting you — the kisses — the hotness — the wetness — all melting together — the being held so tight that it hurts — the strangle and the struggle."
Read full letter HERE.

Beethoven to his 'Immortal Beloved'
"Though still in bed, my thoughts go out to you, my Immortal Beloved… Oh continue to love me–never misjudge the most faithful heart of your beloved. Ever thine. Ever mine. Ever ours."

"Love demands everything and that very justly – thus it is to me with you, and you with me"
Read full letter HERE.

Ronald Reagan to Nancy Reagan
"The important thing is I don't want to be without you for the next 20 years, or 40, or however many there are. I've gotten very used to being happy and I love you very much indeed."
Read full letter HERE.

Oscar Wilde to Lord Alfred Douglas
"I feel that it is only with you that I can do anything at all. Do remake my ruined life for me, and then our friendship and love will have a different meaning to the world… There are such wide abysses now of space and land between us. But we love each other."
Read full letter HERE.

Vita Sackville-West to Virginia Woolf
"But oh my dear, I can't be clever and stand-offish with you: I love you too much for that. Too truly. You have no idea how stand-offish I can be with people I don't love. I have brought it to a fine art. But you have broken down my defenses. And I don't really resent it."
Read full letter HERE.

Johnny Cash to June Carter Cash
"You still fascinate and inspire me. You influence me for the better. You're the object of my desire, the #1 Earthly reason for my existence. I love you very much"
Read full letter HERE.

Winston Churchill to Clementine Churchill
"Time passes swiftly, but is it not joyous to see how great and growing is the treasure we have gathered together, amid the storms and stresses of so many eventful and, to millions, tragic and terrible years?"
Read full letter HERE.
---
---
About the Author
Laura Creedle lives in Austin, TX, and writes about her experiences as an ADHD writer at www.lauracreedle.com. The Love Letters of Abelard and Lily is her debut novel.
---
Giveaway
1 (One) Winner will get a finished copy of the THE LOVE LETTERS OF ABELARD AND LILY (US only)
Click HERE to enter the giveaway
---
Follow the Tour
Thank you so much to Aditi @AThousandWordsAMillionBooks , Nori @ReadWriteLove28 , & Sara @AGingerlyReview for organizing and hosting the tour for this adorably amazing book about two neurodivergent teens! Make sure you check out the other stops on the tour to see what these amazing bloggers had to say about THE LOVE LETTERS OF ABELARD AND LILY!
12/3 Tour Stops
Creative Post – Life of A Literary Nerd
Excerpt  – Of Wonderland
Interview – Tween 2 Teen Book Reviews
12/10  Tour Stops
Interview –Book Stack Amber
Review – Inkdin Book Blog
12/17  Tour Stops
Excerpt – Boundless Bookaholic
Review – Olivia's Catastrophe
Guest Post – YA Indulgences
Unique Post – A Thousand Words A Million Books
12/31 Tour Stops
Review – Books, Boys and Blogs
Interview – Aphonic Sara
Guest Post – The Hardcover Lover
---
Are you excited to read The Love Letters of Abelard and Lily? What's your favorite bookish love letter? What's your favorite love letter from history? Share below!
Make sure you grab your copy of THE LOVE LETTERS OF ABELARD AND LILY today!
Amazon | B&N | Book Depository