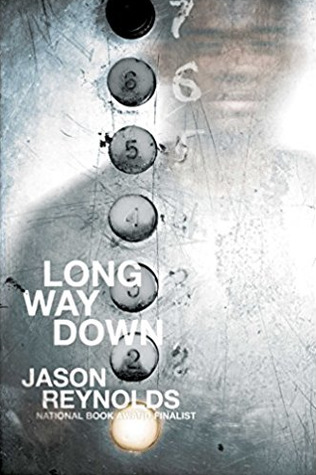 Title: Long Way Down
Author: Jason Reynolds
Rating: ★★★★★
Release Date: October 27, 2017
"And you know it's weird to know a person you don't know and at the same time not know a person you know, you know?"
---
This book was absolutely stunning in every possible way. My heart completely went out to Will and I was instantly captivated by his story. Long Way Down follows fifteen-year-old Will in the immediate aftermath of his brother's murder as he seeks justice. Will confronts his past and himself on a life-changing elevator ride.
---
Things I Liked 
This was my first experience with a story told in verse and I have to say it was done masterfully. It was so easy to see Will's emotion and mindset – it made the story a joy to read. And it was such a quick read, I read the entire thing in one sitting. I will definitely looking for more stories told in verse in the future.
Some of my favorite quotes
"Another thing about the rules. They weren't meant to be broken. They were meant for the broken to follow."

"People always love people more when they're dead."

"Get down with somebody or get beat down by somebody."

"Anagram NO.1: ALIVE = A VEIL"
There was such an incredibly strong sense of family and community woven through the story. Not only Wills deep unconditional love for his brother Shawn, but each person that Will encounters on the elevator brings life to this story and expands the world beyond the steel box.
This was such a character focused story and I loved every single minute of it. As you know, I live for character driven stories so I was a very happy reader with this book. This entire story is a journey of Will's emotional state after his brother is murdered. We see him wrestling with himself and the culture he was raised in and "The Rules" he's expected to follow. This is such an internal story that has so much emotional depth. AND I WAS SO HERE FOR IT.
I loved the ending of the story. I thought it was appropriate and poignant and honestly it made me tear up.
---
Things I Didn't Like 
N/A. Seriously, there wasn't anything I disliked about this book. I don't even think I can nitpick something stupid.
---
This was such a standout book and completely captivated me from the first page. I don't know what else to say other than I cannot sing this book's praises enough. Everyone should read this and bask in it's beauty and power. Long Way Down is a heart wrenching and necessary story of family, pain, healing, and uncertainty. I now must go read every book by Jason Reynolds ever.