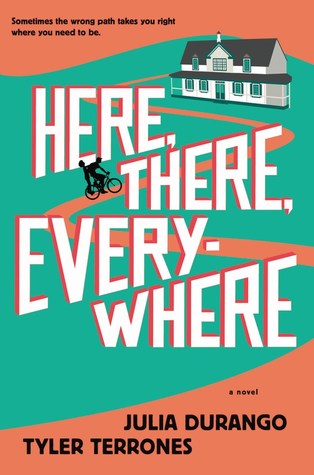 Title: Here, There, Everywhere
Author: Julia Durango & Tyler Terrones
Rating: ★★★★★
Release Date: December 19, 2017
"As I drove back to town, the sun at our backs and the windows down, I looked over to Rose, whose hair flew wildly in the wind. She stared out her window watching the trees and houses whip by …. I'd never felt happier sitting next to someone."
---
This book was so much better than I was expecting! I wasn't expecting it to be garbage by any means, but I thought it would be a pretty standard contemporary. And it was in some ways, but there was so much heart and warmth in this book I was immediately captivated. Here, There Everywhere is a story about family, finding yourself, and first loves. It was really a joy to read.
---
Things I Liked 
I loved the diversity in the story! Zeus, the main character, is Mexican and Norweigan, his little brother Grub is Puerto Rican and Norwiegan. Rose, Zeus' love interest is Filipino. I loved seeing so much diversity in small town America, because diversity exists everywhere.
It was so easy to connect to the characters and the story. The best word I can use to describe this book is endearing. I didn't want to stop reading because I loved spending time with these characters.
I loved every single relationship in this book. Zeus and Grub are a fantastic brother duo, who clearly love each other very much. I loved seeing Zeus' close relationship with his mom. He came to her when he was upset and emotional, and I loved seeing so much support between them. I loved Zeus and Rose's getting-to-know-you phase, their dates were adorable. I liked seeing Zeus interact with all of the senior citizens at the retirement center – there were many vibrant characters. I liked that even after Zeus started dating Rose, he actually made his own friends too. This story wasn't only about the romance, we get to see great family and friend moments too.
---
Things I Didn't Like 
I felt like all the points of conflict in the story were relatively weak, but because this is much more of a character driven story it didn't really bother me too much.
---
This book was such a pleasant surprise. It was so heart-warming and happy to read. I loved the characters and the relationships we get to see. Here, There, Everywhere is a great contemporary that is guaranteed to put you in a good mood. And it's really perfect for this time of year.
I received a copy of the book from HarperTeen via Edelweiss in exchange for an honest review.