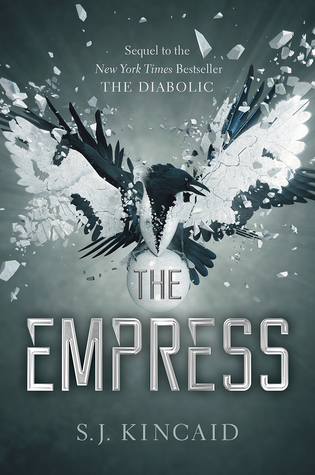 Title: The Empress (The Diabolic #2)
Author: S.J. Kincaid
Rating: ★★☆☆☆
Release Date: October 31, 2017
"Half a lifetime of dedication, love, and effort, and it was demolished in a second. The universe was so cruel. What a fool I'd been to forget it."
---
I'm actually kinda sad, because I didn't really love this one as much as I wanted to. It kinda felt like all the parts I loved about The Diabolic were shifted away from to focus on the politics. Don't get me wrong, I LOVE politics in SFF stories, but I felt like the characters were really given the short stick because of all the political power plays.
I really loved Nemesis and Tyrus' relationship in the beginning of the story. It felt much like the partnership we see in book 1. They protect each other and support each other, and I loved it. But their relationship really gets the shaft because of the political drama that comes into play, especially with Senator Pasus and his agenda. I just didn't connect to this story nearly as much as the previous one. The time jumps and character's actions really hindered my ability to connect and enjoy the story.
I know the format is a little different than I normally use, but I feel like my thoughts were muddled and what I liked and didn't sort of overlapped in weird ways. I don't really know. I just felt like I needed to get my thoughts down without the standard formatting.
Have you read THE EMPRESS? What did you think? Did you really like THE DIABOLIC TOO? Share below!
I received a copy of the book from Simon & Schuster Books for Young Readers via NetGalley in exchange for an honest review.