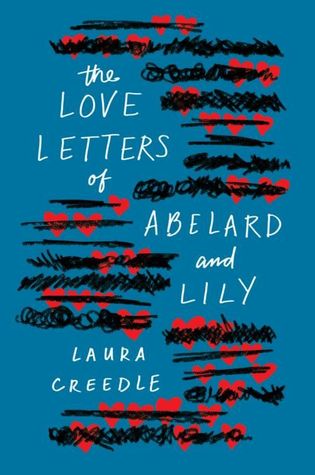 Title: The Love Letters of Abelard and Lily
Author: Laura Creedle
Rating: ★★★★☆
Release Date: December 26, 2017
"For every horrible person in the universe, there is a truly amazingly good person waiting to undo the evil. It's all a matter of timing."

---
The Love Letters of Abelard and Lily is such a beautifully rendered contemporary novel that resonates emotionally and effectively uses well-crafted characters to engage you in a moving story of human connection. We follow two neurodivergent teens, Lily Michaels-Ryan, who has ADHD, and Abelard Mitchell, who has Asperger's, as they come together after serving detention together and bond over a love for ancient love letters. Lily and Abelard grow closer, and they must explore what defines a relationship, and what is best for each of them.
---
Things I Liked
I absolutely loved that this story featured two neurodivergent characters. It was fantastic seeing how Lily and Abelard process the world differently. This is Own Voices rep for ADHD and dslyxia, and you can clearly see what Lily is dealing with with her own ADHD – her confusion, frustration, drifting, and focus are all clearly captured and reflected. I loved her talking about how asking for help made her angry, because I feel like that is so easy to relate to. Lily feels like she's broken, and she breaks things, but Abelard accepts and embraces Lily for who she is. They relate in a beautiful way and their connect and history feel so real and earnest. I really loved them.
All of Lily and Abelard's flirting is so cute and fluffy. I loved all of the texts and references to The Letters of Abelard and Heloise – it was so unique and seemed perfectly them. I also really loved the love letters they wrote to each other – they were made of  all things swoon worthy and happiness.
The parallels to The Letters of Abelard and Heloise. The passion of wanting more, but not being sure if you can maintain what you have or be who you want to be if you're with this person, was so beautifully mirrored in Lily and Abelard's journey.
I really love that the characters in the story actively challenge the love cure. Lily's mom repeatedly tells Lily that she can't rely on another person, in this case Abelard, for happiness. And Abelard sees Lily, not as a broken person, but a fractal – perfectly chaotic – and worthy of affection as she is.
There was some surprising humor that was really showcased by Lily's narration and inner dialogue. One of my favorite lines is both poignant and candid:
"But love doesn't make you human. Being able to feel pain deeply, or even being able to feel the pain of others, doesn't make you human. What makes you human is the ability to tolerate paperwork."
---
Things I Didn't Like
This isn't a negative so much as a wish, I would have LOVED a POV from Abelard. I was expecting a more even balance between the two characters, but this really was Lily's story. Abelard having a POV would have been awesome to get more of him, his mindset, his perspective of their relationship, and his emotions.
---
The Love Letters of Abelard and Lily is a surprisingly humorous tale of love and connections between two neurodivergent teens. The characters are captivatingly real and the emotions are grippingly honest. This love story is a tale for the ages.
Happy Reading!
I received a copy of the book from HMH via Edelweiss in exchange for an honest review.