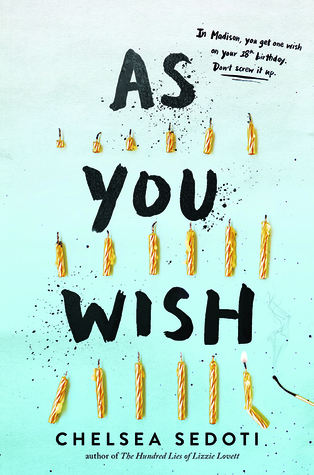 Title: As You Wish
Author: Chelsea Sedoti
Rating: ★★★★☆
Release Date: January 2, 2018
"The sky is mostly dark now. Stars replace the sunset. Out in the desert, creatures creep out of their daytime hiding places. In the hills, the wish cave is dormant, waiting for the next birthday. Waiting to change someone's life."
---
I really loved this story a lot, which was fantastic because I've heard some very mixed reviews. Specifically about how everyone hates Eldon, but I am happy to say that I really liked Eldon, and I really liked this story. As You Wish is a compelling tale of fate and choice. We're introduced to the town of Madison, where at 18 you are guaranteed a wish that will come true. We follow Eldon as he approaches his 18th birthday and is struggling with his wish.
---
Things I Liked 
Eldon is sardonic and kind of a jerk, but he readily acknowledges that he's kind of an asshole and I appreciate that. But I felt like how he was acting was so appropriate and reasonable and well established. He's so disillusioned with life in Madison and being reduced to a wish, a single choice he's sure to regret, that he doesn't know how to deal with what he's feeling and he acts like a jerk to have some semblance of control. He's also devastated after his sister's tragic injury and blames everyone, including himself. Eldon was so complex and compelling and I loved reading from his perspective.
Madison is such an interesting town and I love the wishing concept and what it's come to mean for the town – how it's replaces religion and become everything. You are reduced to your wish, and Eldon resents that. There just this whimsy and small town structure that was perfect for the story., along with a large cast of quirky characters.
I also liked seeing the complexities of wishing explored. Does success, love, happiness have meaning or worth if you just wish for them? Do you feel like an impostor for achieving something via wish and come to resent it? It was very thought provoking.
I really liked the writing style. I loved that it was a day-to-day format and we really got to see Eldon's journey. I also LOVE LOVE LOVED the wish history chapters we got. They fleshed out the town and made all the citizens real. It was so raw seeing the aftermath of people's wishes, while also having some great humor. Though I definitely teared up a few time reading about people's wishes.
I loved the fantastic trio that forms with Eldon, Merrill, and Norie. They just fit well, and even through their fights and anger and uncertainties; they work. They challenge and support each other perfectly.
---
Things I Didn't Like 
I felt like it too a bit too long to establish the rules for wishing. I have no problem not knowing the origins of the wishing cave or how/why it works, but we don't really get into what you can and can't wish for until just over 100 pages in.
Major Fontaine was super sketchy and got a little cartoon villain-y for me towards the end of the story. I always felt like there was something off about him, and we do learn more about him in his wish history chapter, but he was a little one dimensional.
---
I just loved so many things about this book. I was utterly captivated and I couldn't put it down. As You Wish is filled with compelling, complex characters who captivated me from the first page.
"The school, the town, the world is full of wishes. Why don't people stop wishing and start doing? Why is everyone so willing to wish away their lives? I want to scream at them to stop. There's more to life than wished. Wishing never gets you anywhere.
Except, of course, In Madison, it does."
Trigger warning for suicide attempt
I received a copy of the book from Sourcebooks FIRE in exchange for an honest review.
Have you read AS YOU WISH, Is it on your TBR? What would you wish for? Share below!