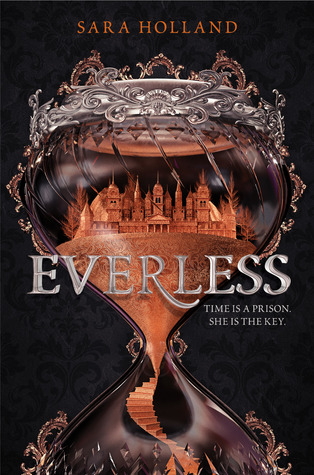 Title: Everless (Untitled #1)
Author: Sara Holland
Rating: ★★★★★
Release Date: January 2, 2018
"Fox," said Snake, curling slowly around her friend's heart. "It's time we face the truth."
---
This book was so fantastic and just absolutely perfect for a winter-y read. There's this kinda desperate tone and eerie calmness that just fits. Everless is a truly unique and captivating magical world where time is bound to blood and metal, and used as currency. Jules Ember is running from a mysterious past she doesn't understand. But she starts to seek answers as she returns to her childhood home to work as a servant in the Everless Manor of the ruling Gerling family, after being run out ten years prior. Now, Jules begins to uncovers secrets and faces more dangers than she could have ever expected.
---
Things I Liked
I just really loved the tone of this story. There's a desperation that is clearly established early on and creates a lot of tension and suspense throughout the story. There was also this overwhelming sense of dread that made me want to keep reading. I couldn't get enough.
This fantastic tone also setup quite a few surprises that I did not see coming, but they all really worked and felt natural in the story. The tone and the twists really kept me engaged.
I loved getting all of the worldbuilding about the history of the Sorceress and the Alchemist. I liked getting the different local legends from the servants, and getting more scholarly information from books and other characters. It was nice to see how different classes interpret and pass on the information. The magic system was another highpoint. It's so unique and creative – and I loved the inclusion of alchemy in the story.
Jules Ember was a strong main character and I really liked her. She gets to be mad, scared, vengeful, and hopeful. She really felt like a full character facing hard challenges and trying her best. I could also really feel her history at Everless. It gave her some nice backstory and set the tone for a few relationships.
---
Things I Didn't Like
I felt like some things in the story were a little muddled. There were really only two instances where I noticed it, but I did have to reread a few paragraphs and really focus.
---
This story was just so great and I loved getting back into fantasy. The characters, the relationships, the worldbuilding all captivated me and made me want to read. Everless is a fast-paced and thrilling story of secrets, truths, and power all wrapped in a desperate setting. I cannot wait for book 2!
I received a copy of the book from HarperTeen in exchange for an honest review.