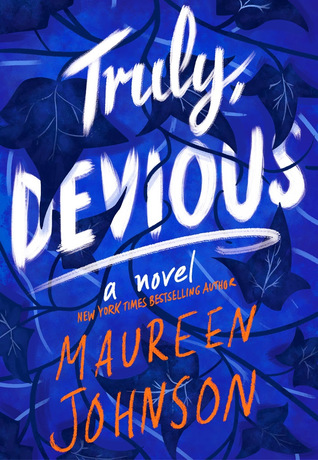 Title: Truly Devious (Truly Devious #1)
Author: Maureen Johnson
Rating: ★★★☆☆
Release Date: January 16, 2018
"There was something there. She could feel it under her skin. Stevie had no fears of the dead. The living, however, sometimes gave her the creeps."
---
I haven't read a mystery in a while and I feel like this is a perfect one to make me crave more. We follow Stevie Bell, true crime junkie and newly admitted to the prestigous Ellingham Academy, a school with a msterious past of it's own. Stevie is determined to solve the ellusive Ellingham mystery, but it seems that the past might be repeating itself and murder is making a return to the school. With a steadfast main character and a compelling mystery that spans decades, Truly Devious is an enjoyable and quick read.
---
Things I Liked 
The mystery and the Truly Devious letter were fantastically eerie. They were smart, twisted, and well-established. The flashbacks worked so well captivating the unhinged tone and kept me engaged. The Ellingham mystery was probably my favorite part of the story.
I liked Stevie. She was inquisitive and head strong and sure of herself. She was smart, capable, and confident in her abilities and that was great to see.
There are some mentions of diversity that I hope will be explored more in the rest of the series. Janelle, Stevie's friend is a lesbian, and Janelle's crush Vi, uses they/them pronous. Both have incredibly minor roles, with Vi only being mentioned 3 or 4 times, but I hope to see more from them.
---
Things I Didn't Like 
I feel like a lot of the side characters were just there. I honestly couldn't remember half of them, and I had trouble keeping some of them straight. I would have liked to see them established more, especialy Stevie's friend Janelle.
For the first half of the story I loved how the mystery was being handled. Stevie, while passionate about true crime and mysteries, actively worked with police and school authorities giving them pertinent information. It was nice to see that she could continue her own investigation without hindering an official one. Unfortunately that changed after the two-thirds mark and Stevie was determined that she had to solve the crime on her own. I was upset, because the story reverted to every murder mystery ever.
The story felt very much like a part one. It was mostly set up for a larger story and we really don't get any answers. It wasn't really a satisfying ending at all.
---
While I absolutely loved the first half, I was disappointed by the ending and that brought the story down a bit. I was captivated by the flashbacks to the Truly Devious murders and the Ellingham kidnappings. The interviews, the characters, the mystery and tone were all perfect. Truly Devious is a fun mystery and definitely keeps you guessing.
I received a copy of the book from Katherine Tegen Books via Edelweiss in exchange for an honest review.