First Lines Fridays is a weekly feature for book lovers hosted by Wandering Words. What if instead of judging a book by its cover, its author or its prestige, we judged it by its opening lines?
Pick a book off your shelf (it could be your current read or on your TBR) and open to the first page
Copy the first few lines, but don't give anything else about the book away just yet – you need to hook the reader first
Finally… reveal the book!
---

"Thick evening fog clung to the forlorn banks of Ward's Island, turning it into a ghost of itself. Across the dark calm of the East River, the glorious neon whirl of Manhattan was in full jazz-age bloom – glamorous clubs, Basement speakeasies, illegal booze, all of it enjoyed by live-fast-forget tomorrow flappers and Dapper Dons eager to throw off their cares and Charleston their way into tomorrow's hangover."
FIND OUT HE BOOK BELOW!!!!
---
↓   ↓   ↓   ↓   ↓
\
↓   ↓   ↓   ↓   ↓
↓   ↓   ↓   ↓   ↓
↓   ↓   ↓   ↓   ↓
↓   ↓   ↓   ↓   ↓
---
Before the Devil Breaks You

by

Libba Bray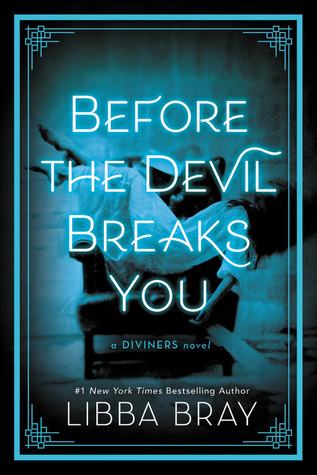 I'm so excited to finally be reading this book! I read both THE DIVINERS and LAIR OF DREAMS last year, but it's been almost a year an I'm eager to get back to this eerily fantastical world!
These lines perfect set the tone for what I've read of the story so far – I'm just over half way right now and I'm in love. I love Ward Island as a setting and seeing all the Diviners exploring their powers more!
---
Goodreads Synopsis: New York City.
1927.
Lights are bright.
Jazz is king.
Parties are wild.
And the dead are coming…
After battling a supernatural sleeping sickness that early claimed two of their own, the Diviners have had enough of lies. They're more determined than ever to uncover the mystery behind their extraordinary powers, even as they face off against an all-new terror. Out on Ward's Island, far from the city's bustle, sits a mental hospital haunted by the lost souls of people long forgotten–ghosts who have unusual and dangerous ties to the man in the stovepipe hat, also known as the King of Crows.
With terrible accounts of murder and possession flooding in from all over, and New York City on the verge of panic, the Diviners must band together and brave the sinister ghosts invading the asylum, a fight that will bring them fact-to-face with the King of Crows. But as the explosive secrets of the past come to light, loyalties and friendships will be tested, love will hang in the balance, and the Diviners will question all that they've ever known. All the while, malevolent forces gather from every corner in a battle for the very soul of a nation–a fight that could claim the Diviners themselves.
---
Have you Read BEFORE THE DEVIL BREAKS YOU? Do you love THE DIVINERS series too! What's your favorite YA historical time period? Do you like a bit of fantasy or paranormal with your historical? Share below!