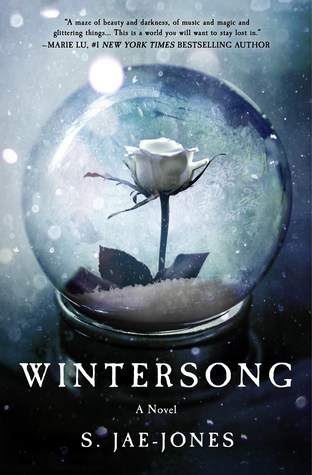 Title: Wintersong (Wintersong #1)
Author: S. Jae-Jones
Rating: ★★★★★
Release Date: February 7, 2017
"Once there was a little girl who played her music for a little boy in the wood. She was small and dark, he was tall and fair, and the two of them made a fancy pair as they danced together, dancing to the music the little girl heard in her head."
---
This was absolutely fantastic and I loved every minute of it. Wintersong is a compelling fantasy story that ensnares you with it's well-crafted characters and a darkly mysterious setting. Leisl has heard stories of the Goblin King since she was a child, when her imagination ran wild with music and secret playdates. But when Liesl's sister Käthe is taken by goblins, she enters the Underground ready to sacrifice anything to save her sister, not expecting a connection with the Goblin King.
---
Things I Liked 
The writing and tone is so whimsically fantastic. There's a sense of wonder and yearning that Leisl had that you can't help but be drawn in. There's also a combative feeling – chilling and haunting, promising unexpected challenges. The tones perfectly reflected the Underworld and the Mortal world. The push and pull of these feelings captivated me and I couldn't put the book down.
I really liked the characters. Leisl was such a fully realized character – I saw her passion, anger, guilt, hopelessness, and every emotion in between. While I didn't love her jealousy of her siblings, they still had a good relationship that I could appreciate. I loved the Goblin King and learning more about Der Erlkönig and his origins as Lord of the Underground. He was so mischievous and had an alluring air of confidence.
The romance was so angsty and great. Leisl and the Goblin King had great chemistry and I loved that you could feel their history. I loved their banter and back-and-forths, each one had the power at one point or another. I also loved that they respected each other, even through their schemes and games, they saw each other as equals.
I loved the spending time Underground. Seeing the different goblins, seeing how their magic worked, seeing Leisil and the Goblin King's game unfold – It was so great and it enchanted me.
I LOVED the ending. Honestly it was completely satisfying for me and I would have happy with it as a standalone (which I will pretend it is if I hate Shadowsong). But it was this perfect blend of bittersweet, hopeful, honest, and raw. It was such a great culmination of our character's journeys so far.
So many quotes
"The wishes we make in the dark have consequences, and the Lord of Mischief will call their reckoning." ←Tell me you didn't get chills!

"As a child, I'd pretend to see him, Der Erlkönig, this mysterious ruler Underground … He was playful, serious, interesting, confusing, but he was my friend, always my friend. It was make-believe, true, but even make believe was a sort of belief."

"After all, I was not a child of beauty; I was a child of the queer, the strange, and the wild."

"I'm not a saint; I am a sinner, I want to sin again and again and again."
---
Things I Didn't Like 
Some things got a little muddled when Leisl first got into the Underground. While it was one of my favorite parts of the story, the meddled time and confusion seeped through the page and I had a little trouble knowing what was going on at times. It was also difficult to connect with the characters at times, but not so much that it lessened the overall experience.
---
I just really loved this a lot and I was utterly captivated by the characters, the setting, and the story. It was so addicting and I couldn't put it down. Wintersong is an alluring read that keeps you on your toes, wanting more.
---
Have you read WINTERSONG yet? Are you excited for SHADOWSONG? Let me know down below!
I received a copy of the book from Wednesday Books via Netgalley in exchange for an honest review.