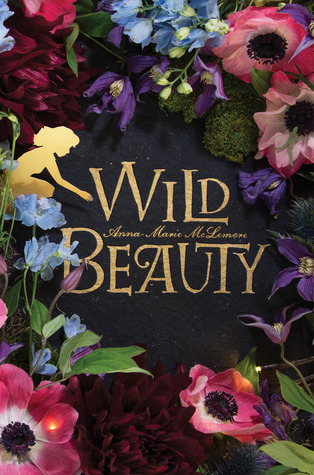 Title: Wild Beauty
Author: Anna-Marie McLemore
Rating: ★★★★☆ (4.5 Stars)
Release Date: October 3, 2017
"Even in its first faint traces, love could alter a landscape. It wrote unimagined stories and made the most beautiful, forbidding places.
Love grew such beautiful things."
---

What a beautifully stunning book that is filled with all manner of flowers, family, and love. So many people have raved about this book and recommended it again and again. I am happy to say that it's praises are well deserved and everyone should read this wonderous book. Wild Beauty follows Estrella Nomeolvides and she and the women in her family care for La Pradera estate. While the Nomeolvides have the ability to create gardens of grandeur, they hide a painful secrets: those they love disappear. One day a mysterious boy appears, and together he and Estrella discover secrets that have long been buried beneath the flowers of La Pradera.
---
Things I Liked 
The writing in this novel is absolutely breathtaking. The words flow like magic themselves, fluid and purposeful. The descriptions are so lush and imaginative, while being grounded in emotion and honesty. It's genuinely stunning.
All the aspects of family in this story captivated me from the very first page. I loved seeing the generations of Nomeolvides women, I loved seeing the cousins and the deep care and closeness – like they were sisters, I adored the found family that Bay and Fel find themselves a part of.
There is so much love and warmth that radiates off of this story that you are guaranteed to feel comforted and cared for. Not only do you feel it bursting from the pages, but you can clearly see the deep connection between the characters and it makes it so easy to become invested in their story. You see their heart and want to protect it.
I loved Estrella and Fel's relationship and I was so invested. This might be because I loved them so much individually, but I loved them helping each other discover who they were and who they wanted to be.
La Pradera was an amazing setting. I feel like the settings are so vital to magical realism stories – they always have more of an impact. La Pradera truly became a character on its own, with a consciousness that demanded justice and retribution. It was powerful to see the land itself honor those that history had forgot. I am not ashamed to say that I shed a tear or two.
Quotes
"There were two kinds of Nomeolvides hearts, ones broken by the vanishings, and ones who counted themselves lucky to have seen the backs of their lovers as they left."

---

"The world outside these gardens held two kinds of death, the vengeance of La Pradera, and the knives of a world that did not want them."

---

"There was a magic to things that were familiar and ordinary. The way they were known was a kind of enchantment, and when they were gone, the spell broke."
---
Things I Didn't Like 
I didn't really connect with Bay at all and I was really sad about it because everyone loved her and I wanted to too. I felt like for the first 100 pages or so, Bay was more of an idea than she was a person. It was all about her in relation to one of the Nomeolvides' and I didn't connect with her personally. This does get addressed and that made me happy, but we don't really get to see her again until near the end of the story, and it was a little too late for me. (But I did really love her relationships with the Nomeolvides girls)
There were a few instances where the story got a bit repetitive for me. I understand that there's an expected whimsy and reiteration present in magical realism, but I noticed a single sentence repeated at least three times across two pages. This was a very minor issue that I honestly didn't really have a problem with, but it was noticeable a time or two.
---
I really think everyone should read this book – it's so lyrical and moving you're guaranteed to be captivated. Wild Beauty threads a tale of loss, family, and love together in away that will move you to tears and then heal your heart.
---
Have you read WILD BEAUTY yet? What did you think?
PS – thanks to Elise for recommending this to me for my Winter Bingo TBR, you were right. I loved it!