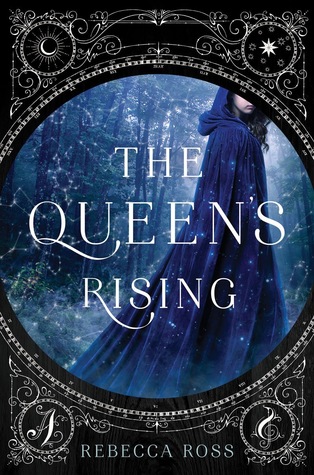 Title: The Queen's Rising (Untitled Trilogy #1)
Author: Rebecca Ross
Rating: ★★★★☆ (4.25 Stars)
Release Date: February 6, 2017
"I am broken, I am treacherous, I am divided…"
---
It's so good to read fantasy again. It honestly feels like forever since I've read a high fantasy novel and I'm so happy being back in this magically captivating genre. The Queen's Rising really hooked me from the start and took me on a fantastical journey of family, strength, and passion. It was just so good.
---
Things I Liked 
MAPS! And lineages and lots of fun things at the beginning of the book! Maps are something that makes every fantasy story better, and you get 2 in this book. Plus a whole lot of other cool stuff about characters and family trees. Though be advised you could spoil yourself for some revelations that happen later in the book.
I was a big fan of the writing throughout the story. It was so descriptive and lush. I felt like I was there – interacting with what the characters were seeing. It was so easy to invest in. I also really liked how the story was divided into parts. In some books, I find the division arbitrary, but here each part was contained and built toward a larger goal.
I thought the worldbuilding was great. I loved seeing how Maevana and Valenia are different culturally, and how they value different things. They had their own political systems in place. I loved the matriarchal history in Maevana and the respect for physical strength. I LOVED the House systems and the regard for the different Passions in Valenia. I also liked the history of magic and it's legacy in Maevana.
I loved the sisterhood and love that was clearly evident between all the girls studying at Magnalia House. Their friendships were so pure and earnest and I loved seeing it here.
I really enjoyed seeing Brienna searching and experiencing both sides of herself. She wanted to learn about her history and her family legacy, but she wouldn't let that define her future.
---
Things I Didn't Like 
I felt like some things were a little too easy and lacked the tension I wanted in the story. It only happened a few times, but I would have loved for the heighten stakes to feel more impactful.
---
This story left me feeling so hopeful and proud. I just feel at peace, like this is the story I needed right now, and it was a great one. I loved so many things about it from the characters to the worldbuilding to the personal connections. The Queen's Rising has a lot to offer and leaves you completely satisfied. I would honestly be okay with this as a standalone, but I'm excited to see what happens next.
I received a copy of the book from HarperTeen via Edelweiss in exchange for an honest review.