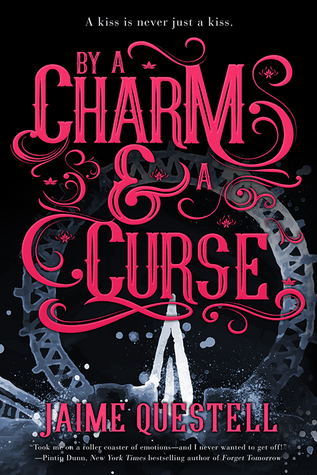 Title: By a Charm and a Curse
Author: Jaime Questell 
Rating: ★★☆☆☆
Release Date: February 6, 2018
"Things that are linked cannot be unbound. Things set in motion cannot be stopped…"
---

I have some mixed feeling about this – I loved the humor that the story started out with, and the carnival setting, but the humor almost immediately disappeared and the characters fell flat. By a Charm and a Curse follows Emma King as she's captipulted into Le Grand's Carnival Fantastic, trapped as the holder of a charm that helps the Carnival thrive. But the Carnival's charm is Emma's curse and she's desperate to break it.
---
Things I Liked 
I liked the carnival setting and the charm/curse that affect it. I feel like the setting was just so perfect for the vibe the story was going for. And I loved all the information we got about the charm and curse, and what it means for the carnival's people.
---
Things I Didn't Like 
I felt like a lot of the story was just weak overall. I didn't love how the curse transfer happened in the beginning of the story, I didn't connect to any of the characters, everything was happening so quickly I didn't have time to setting into the story, and I thought the resolution was underwhelming. The story didn't necessarily feel rushed, but nothing really had an impact either.
---
By a Charm and a Curse felt like a complete story – there was a clear beginning, middle, and end, but it all felt pretty superficial. I just really wanted more from the story, and to connect with the characters.
I received a copy of the book from EntagledTeen via Netgalley in exchange for an honest review.