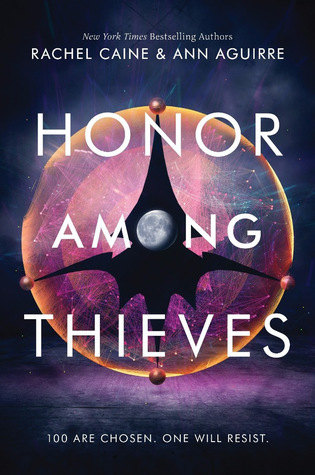 Title: Honor Among Thieves (The Honors #1)
Author: Rachel Caine & Ann Aguirre
Publisher: Katherine Tegen Books
Rating: ★★★★☆ (4.25 Stars)
Release Date: February 13, 2018
"Here we sing to the stars. Deep in the dreaming, we have come and gone for many evers. Until the joining. Until journey's end. Sing back to us when you come, so that we may know the silence is never eternal. Our sun, your stars, their gods, they have sailed in other skins, far beyond the dark and into the hollow, where all light sleeps."
---
This book was such a beautiful surprise. I expected a fun space story with an interesting relationship between Zara, the main character, and Nadim the sentient alien ship she's partnered with. Honor Among Thieves was so much more than a simple story, it was an exploration of self, personal connection, and fighting for what is right. And I am so incredibly happy to have read it.
---
Things I Liked 
Nadim was the greatest! He was so easy to connect to and I loved him so so so much. He was honest, earnest, and endearing . I just really like learning about all the Leviathans. They were so interesting and I loved their admiration for space and the stars.
The relationships were stellar and filled with such reverence and respect. I was utterly captivated by the emotional bonds that formed between Zara and Nadim. I felt their relationship and it was glorious. I also loved the deep friendship that forms between Zara and Beatriz through the story. Again, it so respectful and honest and I'm here for all the lady friendships. I also really loved seeing Beatriz and Nadim slowly bond through the story.
There was a ton of diversity in the story! We get two female leads who are people of color, Zara is black and Beatriz is Brazilian. There are also a Chinese side character, Chao-Xang. I also loved seeing the balance of STEM fields and creative fields, showing people can excel in both areas.
There was really good tension and suspense in the action scenes. The threats felt real and dangerous creating drama and high stakes. I wasn't expecting much action wise, but all the scenes were incredibly well done and I FELT it.
---
Things I Didn't Like 
Part One was so weak compared to the rest of the book, it honestly felt like it was part of another story. It was incredibly fast paced and jumped over all the learning and training that would have been really interesting. And I didn't care at all about the Deluca side plot that completely fell away after part one ended. Part One really seemed like weak filler until we got to the amazingness that is the rest of the book.
---
This books was so heartwarming and beautiful and I was completely captivated by the emotions in the story. It was honesty a beautiful surprise that I genuinely loved. Honor Among Thieves is a captivating story of connection and emotion that completely grips you and takes you on a marvelous ride.
I received a copy of the book from the publisher via Edelweiss in exchange for an honest review.