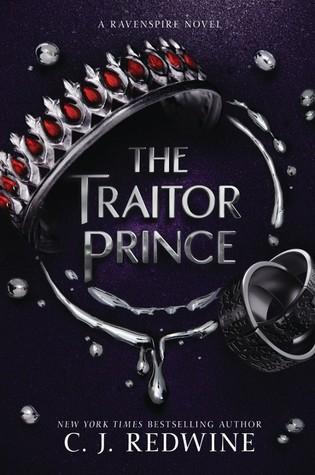 Title: The Traitor Prince (Ravenspire #3)
Author: C.J. Redwine
Rating: ★★★☆☆ (3.5 Stars)
Publisher: Balzer + Bray
Release Date: February 13, 2018
"He was no puppet. By his father's blood and his own tenacity, he was a prince. A ruler. A god among men. And once he was through carving his destiny out of the blood and bone of those who stood in his way, everyone in Akram would bow before him, his name the prayer they raised as they begged for his mercy."
---
I haven't read any of the other books set in the Ravenspire universe, but I might have to go back and check them out now, because I thought that The Traitor Prince was pretty good. We follow Prince Javan Najafai after a failed assassination attempt and an imposter takes his place, forcing Javan to hide in Maqbara, the kingdom's most dangerous prison. The only way to expose the treachery is to compete in Marqbara's deadly tournament.
---
Things I Liked 
Javan is such a good person. He's actually an angel? He is so dedicated to his family and genuinely cares for his kingdom and his people. He has so much honor and integrity and just purity, that was admirable. But he never felt perfect or inaccessible.
These chapters were so incredible short that I flew through this book. It was just so easy to read and I didn't want to put it down.
Rahim was a good villainous character. He was smart, which I love in a villain, and he was actually scary. He is a threat and creates actual fear and tension in the story, and you don't know quite what to expect from him. He keeps the story interesting.
I really liked the friendship and partnership that develops between Javan and Sajda, the warden's number 2 who has secrets of her own. I felt like I saw their relationship progress and saw their trust building. So when a romantic turn came, I bought it.
---
Things I Didn't Like 
I felt like the action was most successful in the beginning of the story and in the first round of the tournament when we're in Javan's POV. During the other rounds we see from different perspectives, while adding to those character's, detracted from the tension and anticipation in the action.
I felt like the ending was a little unsatisfying overall. There's nothing too major that I didn't like, but it felt a little easy and some characters felt weaker. It just wasn't the strong finish I wanted from this story.
---
Overall I'm really happy with this and I'm surprised at how much I liked it. Javan was so pure and kind and it was impossible to not connect and want him to succeed. I really liked seeing the relationships form while in Maqbara and seeing the kingdom of Akram. The Traitor Prince was a quick and fun fantasy about honor and family that put me in fantastic reading mood.
I received a copy of the book from Balzer + Bray via Edelweiss in exchange for an honest review
Are you excited for THE TRAITOR PRINCE? Have you read any of the RAVENSPIRE books? Which is your favorite? Share below!