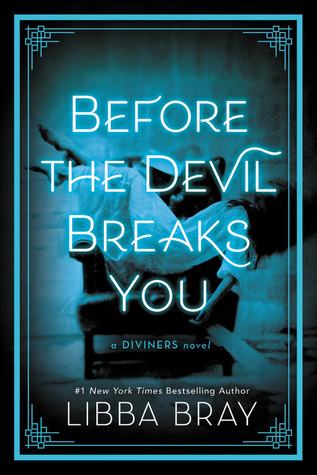 Title: Before the Devil Breaks You (The Diviners #3)
Author: Libba Bray
Rating: ★★★★☆ (4.5 Stars)
Publisher: Little, Brown Books for Young Readers
Release Date: October 3, 2017
"There was a lot to fight. The future battle was daunting. But right now, this moment, was a time for hope, too. For fresh starts. For forgiveness."
---
I just absolutely love diving deeper and deeper into this fantastically haunting world the Libba Bray has created. Before the Devil Breaks You continues the adventures of our incredible cast of characters as they learn more about their Diviners powers and the ghostly threat looming over New York. The Diviners learn more about themselves and their history as they prepare for this epic battle that is sure to test them in ways they won't expect.
---
Things I Liked 
Ward Island and the exploration of mental health in the 1920s (including continuing to highlight the unseemly parts of US history including the forced sterilization). I also really loved how the Diviners and the Ward Island residents were foiled – where the Diviners were often revered (though not by everyone) and the Ward Island residents were rejected, even though they both have a similar 'otherness' to them.
I loved how everyone really came together in this story. We get to see all the Diviners discovering more of their powers and working together, strengthening bonds and continuing the amazing friendships we see in the first two books.
Once again, the characters in this series are standouts, and together they form amazing dynamics that completely draw me in and feel so real and genuine. Memphis and Isaiah's brotherly relationship is perfection and feels so earnest. I LOVED seeing all of the girls supporting each other and forming this incredible 1920s girl gang of amazing characters. My favorite romance in the story remained Memphis and Theta, they are adorable perfect and I love them a lot. I didn't much care for the other romances – I didn't hate them, I didn't love them, I didn't really care. I LOVED seeing Theta's growth in this story so much, she gains a peace and acceptance that's beautiful.
I really loved getting the flashbacks to Will, Sister Walker, and Jake Marlowe working in the Paranormal Department and seeing their history with diviners and how that shaped their views and actions now.
I surprising liked the King of Crows in BTDBY. We get to learn more about him and his origins, as well as his goals and his plan for the Diviners. He actually became a villain in this story, instead of a ghostly idea (which is what I felt he was in Lair of Dreams). And he is a real threatening presence that hold a lot of power, but isn't infallible.
The chapter, "The Dead" was my favorite chapter in the entire book. It was raw, gripping, and thought-provoking. It was such an ambient chapter that set the tone and further established the atmosphere for the story and created a real-world, lived in feeling to all the ghostly problems the Diviners faced.
QUOTES!!!
"The history of the land is a history of blood. In this history, someone wins and someone loses. There are patriots and enemies. Folk heroes who save the day. Vanquished foes who had it coming. It's all in the telling. The conquered have no voice."

---

"Rest. Then speak of what you know. Show them what you've seen. Witness until their comfort yields to questions. Till their eyes cry with truth. Till their ears would hear the voices of tomorrow. Till their hearts, heavy with knowledge, beat in understanding."

---

"Before the Devil breaks you, first he will make you love him."
---
Things I Didn't Like 
I wanted more from Henry! I loved that he really got to shine in Lair of Dreams, but I felt like we barely saw him here. He very much returned to a side character, and that was a little disappointing. Though I did absolutely love seeing more of his friendship with Ling.
I didn't like Jake Marlowe at – he is such an awful person and I hate him. He is scum in human form. I was so frustrated with Ling because she still admired him for his scientific advancements and could separate the person from the work with Marlowe, but not with Sister Walker who was nowhere near as awful. And I didn't really liked Jericho and Mabel's storylines that were related to Marlowe – they were weaker points of the story for me.
---
These characters are so completely in my heart and I love them so much. I become so invested in their story and their journey and I want to spend time with them. The 1920s setting is also on of my favorite historical settings I've ever read – there's a perfect blend of paranormals that's grounded in raw honesty. Before the Devil Breaks You is an amazing addition to an outstanding series that is building to a stunning crescendo.
Trigger warning for attempted sexual assault
---
Have you read this series yet? What's for favorite book so far? If you could have one of the Diviner's power which would you choose? [I'd pick dream walking with Henry and Ling] Share below!