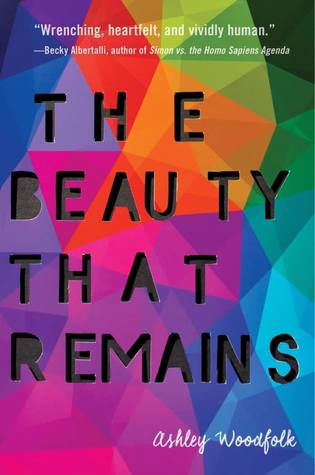 Title: The Beauty That Remains
Author: Ashley Woodfolk
Publisher: Delacorte Press
Release Date: March 6, 2018
I've actually already read this one and it has instantly become and all time favorite. So, I thought I'd highlight it today an make sure it's on your radar!
---
Synopsis
Autumn always knew exactly who she was—a talented artist and a loyal friend. Shay was defined by two things: her bond with her twin sister, Sasha, and her love of music. And Logan always turned to writing love songs when his love life was a little less than perfect.
But when tragedy strikes each of them, somehow music is no longer enough. Now Logan can't stop watching vlogs of his dead ex-boyfriend. Shay is a music blogger struggling to keep it together. And Autumn sends messages that she knows can never be answered.
Despite the odds, one band's music will reunite them and prove that after grief, beauty thrives in the people left behind.
---
Why I'm Excited
Like I said, I've already read this and it was an easy 5 star read. The characters are complex and dimensional, the emotions are honest and compelling.
There is a diverse cast of characters, while I will always love to see. We have 3 POVs: Autumn, Logan, and Shay. Autumn is Korean-American and is adopted. Logan is gay. Shay is black. There's also plenty of diverse side characters. Each character is so well established on their own, and so vibrant. It's so easy to become invested in them.
The story deals with grief both earnestly and respectfully, allowing each character to process their loss in own way.
I love stories that have music elements in them. I find them easy points to connect with and always allows us to see characters depth and emotional state, while they are growing and learning – it works perfectly here.
It's also been blurbed by some AMAZING authors and you can see their praises here!
---
This books deserves all the support and love we can throw at it, because it is beautifully written and emotionally raw. If you love character stories with incredible emotional depth, you will love this book! So make sure your pre-order it and be prepared to find a new favorite book from debut author Ashley Woodfolk come March 6th!
---
Are you excited for THE BEAUTY THAT REMAINS? Share below!