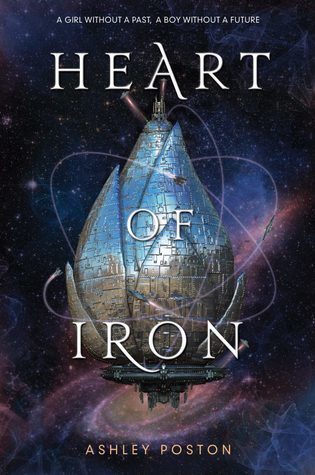 Title: Heart of Iron
Author: Ashley Poston
Rating: ★★★☆☆
Publisher: Balzer + Bray
Release Date: February 27, 2018
"Stalo ban ach van'en. Stars are not afraid."
---
I have wanted to read this story since I heard it pitched as "Anastasia in space", and while I definitely see some Anastasia elements, Heart of Iron truly shines in it's characters and relationships. We follow Ana, a girl with no memory of her past, as she fights to save her Metal companion, Di from a broken memory core. Along the way, Anna meets new friends and uncovers secrets about her past that leads to revelations she would never have expects.
---
Things I Liked 
I loved Ana and Di's relationship. I instantly felt their history and connection. They have a fun and vibrant friendship that feels real, but they also had some deeper emotional moments that drew me in as well. You can just tell that they really love each other.
I also really liked Jax and Robb. They were beyond ADORABLE together. They have some pretty instantaneous flirty when they meet and banter that was so fantastic to read.
I liked a lot of the worldbuilding elements in the story. I really learning about the Solani people, even if I feel like it took a little long to get the info. I liked learning about the Iron Kingdom and their customs – who rules, how their political system is setup. And I thought the use of Androids , or Metals, was interesting, especially with the looming HIVE threat.
There was a lot of diversity in the story, which is always fantastic. There's a gay couple( Jax and Robb), a lesbian couple (Captain Seige and her wife), and many people of color.
The chapters were so short and easy to read that I flew through this book!
---
Things I Didn't Like 
While I really liked the 4 main characters who have POVs in this book – their personalities all felt pretty similar (apart from Di). Ana, Jax, and Robb all have a confidence and sarcasm that, while engaging, felt kinda the same.
---
Heart of Iron was a super quick, fun SciFi read, and I honestly think I would have liked it even more if it was a standalone. But I thoroughly enjoyed the many different character dynamics we see, and they really drew me in. Heart of Iron is a story of self discovery and fighting to create a better future.
I received a copy of the book from Balzer + Bray via Edelweiss in exchange for an honest review.