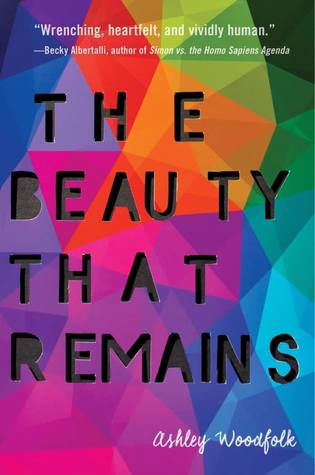 Title: The Beauty That Remains
Author: Ashley Woodfolk
Rating: ★★★★★
Publisher: Delacorte Press
Release Date: March 6, 2018
"We all nod. We get it. There's no way to measure grief."
---
I honestly don't know what to say besides I ADORED this book. My heart broke in every imaginable way and was healed watching these characters on their journey. I felt their every pain, I laughed with them in their joy, and I was a crying mess multiple times. The Beauty That Remains is a stunning debut about grief, healing, and the things that bring us all together.
---
Things I Liked 
EVERYTHING! (I'm not lying I loved everything about this book)
This book is so emotionally resonant. I felt everything along with the characters. I wasn't a passive reader, this book demands you engage and invest yourself. Their pain is visceral and I felt it. (and I cried many times).
I loved the all characters we get. I feel like we really get to know each character individual and see how they handle grief differently, with each one having lost someone recently. Autumn recently lost her best friend, Tavia, and feels so empty and unsure – especially with the growing feelings developing between her and Tavia's brother Dante. Logan is trying to rebuild after his ex-boyfriend died by suicide, and now he must deal with not only his grief, but also his guilt for how their breakup went down. Shay lost her twin sister to leukemia and is trying to convince everyone, including herself, that she's fine. The characters are all going through so much and are dealing with it in different ways, learning as they go and making mistakes and trying to be okay. I connected with Autumn's story immediately, and really became as invested in the others around the 40% mark.
All the side characters were great too – they felt like their own people, who's lives intersected with the 3 main character, but had their own lives and were dealing with their own grief. They were their own people, and we got to know them as their own people. I appreciated it.
I really liked the mixed media elements woven through the story. We see texts, emails, blog posts and it really helped to establish both the characters who have passed, and their relationship with the characters who were still in the story.
And I appreciate the incredible diversity that each character brings to the story. Autumn, and her sister Willow, are Korean Americans and adopted. Dante is Latino. Logan is gay. Shay is black. I loved seeing so much diversity in the story!
---
Things I Didn't Like 
There wasn't really anything I didn't like. I thought the connection through Logan's former band, Unraveling Lovely, was the weakest part – but I appreciated the serendipitous nature of it. I would have prefered to establish some of the history earlier, because we really don't get all the pieces that connect these characters until around the halfway mark.
---
I just loved this book with my whole being. It was so amazing and made me an emotional wreck. I am confident in saying that this book will be one of my favorites of the year. The Beauty That Remains is a stunning debut about grief and healing that captures you from the very first page.
I received a copy of the book from Delacorte Press via Netgalley in exchange for an honest review.