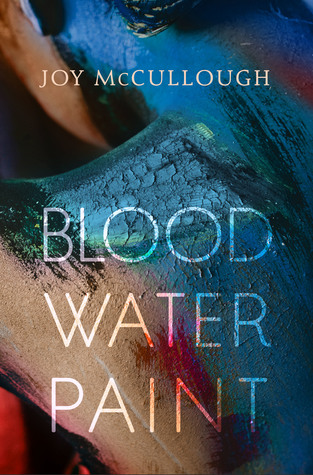 Title: Blood Water Paint
Author: Joy McCullough
Rating: ★★★★☆
Publisher: Dutton BFYR
Release Date: March 6, 2018
"I wish men would decide if women are heavenly angels on high, or earthbound sculptures for their gardens."
---
Wow. This book was so heavy and powerful and important. Blood Water Paint is a historical novel told in verse following the life of 17th century painter, Artemisia Gentileschi, from the loss of her mother at an early age to her rape and the trial that followed. Blood Water Paint is a moving story about women and power and resolve and it can't be praised enough.
---
Things I Liked 
This was so character driven in the best possible way. I feel like novels told in verse are incredibly internal and that worked so beautifully here. I felt Artemisia's fear, frustration, and drive. She was real, so I connected with her on a personal level and her story affected me on a personal level.
This entire story was a commentary on rape culture, agency, and power and I love how it was handled. Dissecting who's believed, who's valued, who's punished through her art and her personal life was so raw and parallelled both beautifully and tragically.
Along with the heavier topics, I loved that the story highlighted the importance of female solidarity and having allies who will believe and support you. I loved seeing Artemisia beginning to explore her own beauty and being a painter and defying societal expectations. We see her her incredible bravery, even in the face of public shaming and hatred.
Quotes
"My back aches not only from the weight of the child I bare, but from all I must carry as a woman."

---

"But that's the thing about perspective. The slightest shift transforms the subject."
---
Things I Didn't Like 
I don't know if it was because this story is so heavy or if it was that blended with the historical period, but I felt like the story was a little long. It didn't drag and nothing felt like filler, but the story did feel long.
---
Blood Water Paint was a brilliant debut novel that explores and celebrates the bravery of a 17th painter who was not believed or valued because she was a woman, and is finally given her own voice. This was just a really important story and I'm so happy to have read it.
I received a copy of the book from Dutton BFYR via Edelweiss in exchange for an honest review.