First Lines Fridays is a weekly feature for book lovers hosted by Wandering Words. What if instead of judging a book by its cover, its author or its prestige, we judged it by its opening lines?
Pick a book off your shelf (it could be your current read or on your TBR) and open to the first page
Copy the first few lines, but don't give anything else about the book away just yet – you need to hook the reader first
Finally… reveal the book!
---
"They're coming."

I looked down the row of Aska hunched against each other, ducking behind the muddy hill. The fog sat on the field like a veil, but we could hear it. The blades of swords and axes brushing against armor vests. Quick footsteps in sucking mud. My heart beat almost in rhythm with the sounds, pulling one breath in and letting it touch another before I let it go.
FIND OUT THE BOOK BELOW!!!
↓   ↓   ↓   ↓   ↓
↓   ↓   ↓   ↓   ↓
↓   ↓   ↓   ↓   ↓
↓   ↓   ↓   ↓   ↓
↓   ↓   ↓   ↓   ↓
---
Sky in the Deep

by

Adrienne Young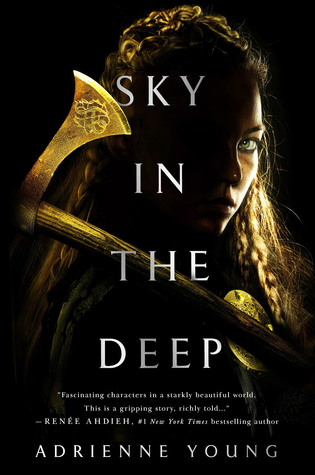 I've never read a viking-inspired fantasy story so I'm very excited about this book. I already like the action and the characters I've met so far. And I can't wait to see how Eelyn's relationship with her brother develops!
---
Goodreads Synopsis: OND ELDR. BREATHE FIRE.
Raised to be a warrior, seventeen-year-old Eelyn fights alongside her Aska clansmen in an ancient rivalry against the Riki clan. Her life is brutal but simple: fight and survive. Until the day she sees the impossible on the battlefield—her brother, fighting with the enemy—the brother she watched die five years ago.
Faced with her brother's betrayal, she must survive the winter in the mountains with the Riki, in a village where every neighbor is an enemy, every battle scar possibly one she delivered. But when the Riki village is raided by a ruthless clan thought to be a legend, Eelyn is even more desperate to get back to her beloved family.
She is given no choice but to trust Fiske, her brother's friend, who sees her as a threat. They must do the impossible: unite the clans to fight together, or risk being slaughtered one by one. Driven by a love for her clan and her growing love for Fiske, Eelyn must confront her own definition of loyalty and family while daring to put her faith in the people she's spent her life hating.
---
Are you excited for SKY IN THE DEEP? Have you read any viking-inspired books? What's your favorite YA historical fantasy? Share below!