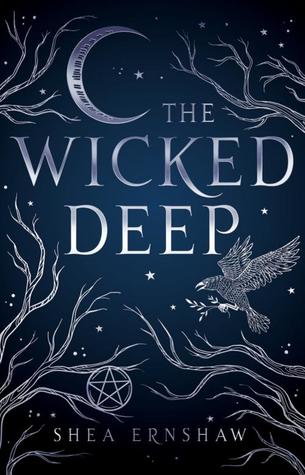 Title: The Wicked Deep
Author: Shea Ernshaw
Rating: ★★★☆☆
Publisher: Simon Pulse
Release Date: March 6, 2018
"The knowing of what's coming, the death that creeps up over the town like fate clawing at the door of every shop and home. I can feel it in the air, in the spray of the sea, in the hollow spaces between raindrops. The sisters are coming."

This book took me forever to read. Honestly, it was less than a week, but it felt like forever. And my trend of becoming more disinterested as I read continued here unfortunately. The Wicked Deep showcases how small town secrets and a little bit of danger combine to make an atmospheric and fun read, even though I did have my issues.
---
Things I Liked 
This books is so beautifully constructed visually. The cover, the book naked, the chapter headings – they all help establish this witchy and atmospheric story.
I loved the named chapters that were used intermittently through the story. They were so beautifully atmospheric (are you sensing a theme here) while also helping to establish background and characters.
I really liked the idea of the Swan Season and the dark curse that's plagued this town for centuries. I like the rule and how the curse operated – they felt logical and grounded which is important for me in a paranormal story.
---
Things I Didn't Like 
I wasn't the biggest fan of the romance in the story. It was just a little too much. A little too quickly for me.
I thought the Swan Sisters were a little lacking. I feel like I didn't know enough about Marguerite and sister #2 (I honestly can't even remember her name). They felt a lot more like background characters who happened to be involved with the main plot. I also didn't like Hazel at all. We do actually get to know her more, I feel like we're supposed to sympathize and connect with her, but I didn't. I really just didn't care about the characters in general. Also, I don't think they were witches so that was kinda disappointing.
I was also pretty meh about the ending. I called the big reveal, so it didn't have an impact or buildup for me. I would have loved for the book to be one chapter shorter. I thought that the chapter "The Harbor" was a solid ending, but the "Land and Sea" the actual last chapter, just highlighted my annoyances and left me on a bit of a sour note.
---
Once again I wanted to like this story more than I did, but I do think that a lot of people will enjoy this. If you're in the mood for an atmospheric read, you should definitely pick this up. And I honestly might have liked this more is I wasn't in a funky reading mood. But The Wicked Deep is story that sweeps you away and carries you on a twisty and dark ride.
I received a copy of the book from the Simon Pulse via Edelweiss in exchange for an honest review.