Top Ten Tuesday is a weekly feature formerly hosted by The Broke and the Bookish and is currently hosted by The Artsy Reader Girl
As usually with these season TBR post, I'm going to share some ARCs that I'll be reading soon! I start really getting back into contemporary with springtime, so I'm excited to get to a lot of these.
---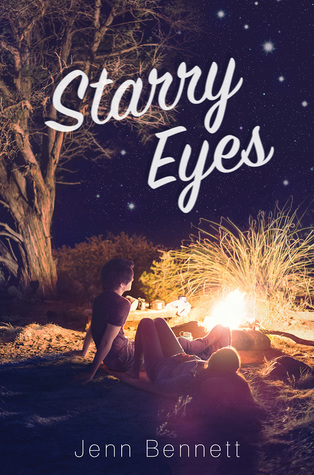 Starry Eyes by Jenn Bennett | Ever since last year's homecoming dance, best friends-turned-best enemies Zorie and Lennon have made an art of avoiding each other. It doesn't hurt that their families are the modern day, Californian version of the Montagues and Capulets.
But when a group camping trip goes south, Zorie and Lennon find themselves stranded in the wilderness. Alone. Together.
What could go wrong?
With no one but each other for company, Zorie and Lennon have no choice but to hash out their issues via witty jabs and insults as they try to make their way to safety. But fighting each other while also fighting off the forces of nature makes getting out of the woods in one piece less and less likely.
And as the two travel deeper into Northern California's rugged backcountry, secrets and hidden feelings surface. But can Zorie and Lennon's rekindled connection survive out in the real world? Or was it just a result of the fresh forest air and the magic of the twinkling stars?
---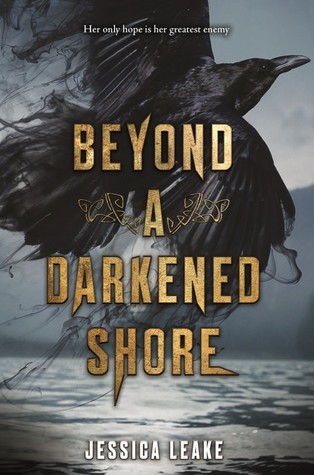 Beyond a Darkened Shore by Jessica Leake | The ancient land of Éirinn is mired in war. Ciara, Princess of Mide, has never known a time when Éirinn's kingdoms were not battling for power, or Northmen were not plundering their shores.
The people of Mide have thankfully always been safe because of Ciara's unearthly ability to control her enemies' minds and actions.But lately, a mysterious crow has been appearing to Ciara, whispering warnings of an even darker threat. Although her clansmen dismiss her visions as pagan nonsense, Ciara fears this coming evil will destroy not just Éirinn, but the entire world. Then the crow leads Ciara to Leif, a young Northman leader. Leif should be Ciara's enemy, but when Ciara discovers that he, too, shares her prophetic visions, she knows he's something more. Leif is mounting an impressive army, and with Ciara's strength in battle the two might have a chance to save their world.
With evil rising around them, they'll do what it takes to defend the land they love…even if it means making the greatest sacrifice of all.
---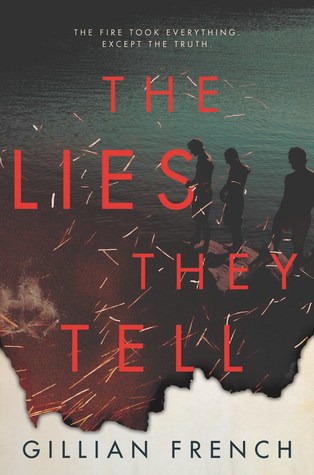 The Lies They Tell by Gillian French | Everyone in Tenney's Harbor, Maine, has heard of the Garrison tragedy. A mysterious fire. A family of five reduced to one. For people like Pearl Haskins—whose dad was the caretaker of the Garrison property when the house went up in flames—the whispers about that night are more than upsetting. They hurt. With her disgraced father now trying to find steady work in between booze benders, Pearl is stuck waiting tables at the town's country club where the rich townspeople come in the summer to flaunt their money and gossip about one another.
This year, a group of privileged boys has made a point of sitting in Pearl's section—throwing careless insults her way while also attempting to flirt. Though she's repulsed by everything they stand for, she's drawn to the quiet leader of the pack, Tristan—the last surviving Garrison. He wasn't home the night a blaze took his entire family, and the sadness coming off him in waves is hard to ignore. Befriending the summer boys might irk her to her core, but inside their fold of elite parties and reckless whims could be answers to what happened the night of the fire. And that's just what she finds.
Hidden beneath the glittering façade of wealth and luxury, Pearl discovers a dark and twisted web of lies and betrayals that, once untangled, will leave no life in Tenney's Harbor unchanged. That is…if it doesn't take Pearl's first.
---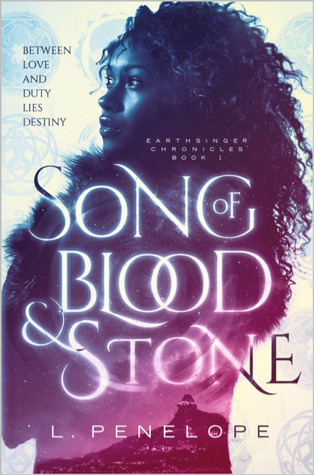 Song of Blood and Stone by L. Penelope | Orphaned and alone, Jasminda lives in a land where cold whispers of invasion and war linger on the wind. Jasminda herself is an outcast in her homeland of Elsira, where her gift of Earthsong is feared. When ruthless soldiers seek refuge in her isolated cabin, they bring with them a captive–an injured spy who threatens to steal her heart.
Jack's mission behind enemy lines to prove that the Mantle between Elsira and Lagamiri is about to fall nearly cost him his life, but he is saved by the healing Song of a mysterious young woman. Now he must do whatever it takes to save Elsira and it's people from the True Father and he needs Jasminda's Earthsong to do it. They escape their ruthless captors and together they embark on a perilous journey to save Elsira and to uncover the secrets of The Queen Who Sleeps.
Thrust into a hostile society, Jasminda and Jack must rely on one another even as secrets jeopardize their bond. As an ancient evil gains power, Jasminda races to unlock a mystery that promises salvation.
The fates of two nations hang in the balance as Jasminda and Jack must choose between love and duty to fulfill their destinies and end the war.
---
9 Days and 9 Nights by Katie Cotugno | Molly Barlow isn't that girl anymore. A business major at her college in Boston, she's reinvented herself after everything that went down a year ago . . . after all the people she hurt and the family she tore apart.
Slowly, life is getting back to normal. Molly has just said "I love you" to her new boyfriend, Ian, and they are off on a romantic European vacation together, starting with scenic London. But there on a Tube platform, the past catches up to her in the form of Gabe, her ex, traveling on his own parallel vacation with new girlfriend Sadie.
After comparing itineraries, Ian ends up extending an invite for Gabe and Sadie to join them on the next leg of their trip, to Ireland. Sadie, who's dying to go there, jumps at the prospect. And Molly and Gabe can't bring themselves to tell the truth about who they once were to each other to their new significant others.
Now Molly has to spend nine days and nine nights with the boy she once loved, the boy whose heart she shredded, without Ian knowing. Will she make it through as new, improved Molly, or will everything that happened between her and Gabe come rushing back?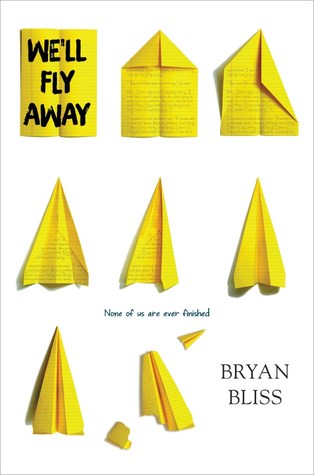 ---
We'll Fly Away by Bryan Bliss | Luke feels like he's been looking after Toby his entire life. He patches Toby up when Toby's father, a drunk and a petty criminal, beats on him, he gives him a place to stay, and he diffuses the situation at school when wise-cracking Toby inevitably gets into fights. Someday, Luke and Toby will leave this small town, riding the tails of Luke's wrestling scholarship, and never look back.
But during their senior year, they begin to drift apart. Luke is dealing with his unreliable mother and her new boyfriend. And Toby unwittingly begins to get drawn into his father's world, and falls for an older woman. All their long-held dreams seem to be unraveling.
---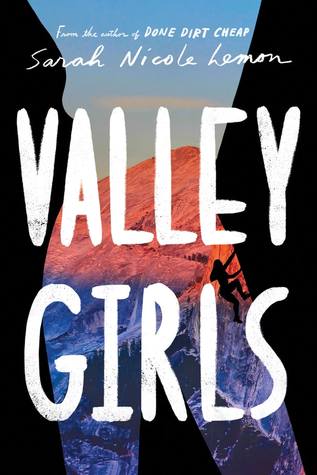 Valley Girls by Sarah Nicole Lemon | When 17-year-old Rilla is busted for partying 24 hours into arriving in Yosemite National Park to live with her park ranger sister, it's a come-to-Jesus moment.
Determined to make up for her screw-up and create a stable new home for herself, Rilla charms her way into a tight-knit group of climbers. But Rilla can't help but be seduced by experiences she couldn't have imagined back home. She sets her sights on climbing El Capitan, one of the most challenging routes in Yosemite, and her summer becomes one harrowing and ecstatic experience after another: first climb, first fall two thousand feet in the air, first love. But becoming the person Rilla feels she was meant to be jeopardizes the reasons why she came to Yosemite—a bright new future and a second chance at sisterhood. When her family and her future are at odds, what will Rilla choose?
---
The Academy by Katie Sise | Frankie Brooks knows what she wants in life: to become the world's next great fashion editor. All she needs to do is get into the elite American Fashion Academy in New York City. If she gets in, her life plans will be going right on schedule. Anna Wintour, watch out.
But after Frankie messes up one too many times—hey, it's hard keeping up with classwork and an acclaimed fashion blog—her parents come up with entirely different plans for her future: Military school. How is Frankie, the least athletic person in the world, who knows absolutely nothing about the military, going to survive a whole semester at the famed—and feared—Academy?
With students who seem to be totally uninterested in her, a course-load that's even more difficult than at her old school, and the weird athletic War Games competition Frankie has to join—her life is way harder than it used to be. And no one, including her roommate Joni, seems to understand Frankie at all.
As she learns how to cope in about a million drills, a hundred different specialized classes, and is maybe even falling for super-hot and super-smart cadet Jack Wattson, can Frankie prove to everyone that being a fashionista doesn't mean she can't succeed?
---
From Twinkle, With Love by Sandhya Menon | Aspiring filmmaker and wallflower Twinkle Mehra has stories she wants to tell and universes she wants to explore, if only the world would listen. So when fellow film geek Sahil Roy approaches her to direct a movie for the upcoming Summer Festival, Twinkle is all over it. The chance to publicly showcase her voice as a director? Dream come true. The fact that it gets her closer to her longtime crush, Neil Roy—a.k.a. Sahil's twin brother? Dream come true x 2.
When mystery man "N" begins emailing her, Twinkle is sure it's Neil, finally ready to begin their happily-ever-after. The only slightly inconvenient problem is that, in the course of movie-making, she's fallen madly in love with the irresistibly adorkable Sahil.
Twinkle soon realizes that resistance is futile: The romance she's got is not the one she's scripted. But will it be enough?
---
Puddin' by Julie Murphy | Millie Michalchuk has gone to fat camp every year since she was a girl. Not this year. This year she has new plans to chase her secret dream—and to kiss her crush. Callie Reyes is the pretty girl who is next in line for dance team captain and has the popular boyfriend. But when it comes to other girls, she's more frenemy than friend. When circumstances bring the girls together over the course of a semester, they will surprise everyone (especially themselves) by realizing they might have more in common than they ever imagined.
---
Are you looking forward to reading any of these books this Spring? What books are you planning on reading? Share below!