If you're like me then you LOVE anthologies! I love getting to see a bunch of authors come togehter and see their take on a single topic. Anthologies are also a great way to discover new authors who you might've missed! So here are 5 authors I want to read because I loved their stories in an anthology.
The author pool for this list is really only from 2 anthologies, Feral Youth and Three Sides of a Heart, both fabulous anthologies that I highly recommend. I've read other anthologies but I'd either already read books by the authors whose stories I loved, or I didn't get a spark with a new author that made me want to read more from them.
---
Justina Ireland 
Justina actually had stories in both Feral Youth and Three Sides of a Heart. "Jackie's Story" from Feral Youth was one of my favorites and "Dread South" from Three Sides of a Heart really made me excited for Dread Nation and I know I'll get a chance to read it very soon because I have an eARC!
---
Shaun David Hutchinson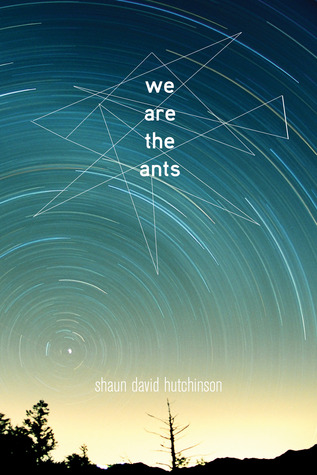 Shaun was actually the editor for Feral Youth and I really loved Gio as an unreliable narrator who pulled so many different characters together. This, along with some beautiful edits on tumblr, made me positive I need to read more from him, specifically We Are the Ants. 
---
Lamar Giles 
I was so incredibly wowed by "The Historian, the Garrison, and the Cantankerous Catwoman" in Three Sides of a Heart. There was such amazing intricacy and layered characters that I fell in love. I don't even have a specific book in mind I want to pick up, but I'm definitely on the look out for anything with his name attached.
---
Brenna Yovanoff 
"Vega" from Three Sides of a Heart was such an amazingly atmospheric and whisical read that gripepd me emotionally that I need to read something else from her ASAP.
---
Bethany Hagen 
Bethany Hagen packed a tear-inducing, heart-gripping story into such a tiny package in "Unus, Duos, Tres" in Three Sides of a Heart and I fell in love. The character work was stunning and as someone who's a character-driven reader, it made the anthology end on a high note! Honestly, her other books don't particularly interest me but I will definitely be on the lookout for her future work.
---
I have 2 Honorable Mentions where I've read a full-length novel by them, but after reading their anthology stories I want to pick up more of their books!
Brandy Colbert
Brandy also had stories in both Feral Youth and Three Sides of a Heart. "Self-Portrait" in Feral Youth was my other favorite from that book. I read Little & Lion (review) and really enjoyed the family relationship in the story, though I have had a bit of a consistent problem with emotional cheating from her. I'm excited to see more from her!
Renée Ahdieh
I read Flame in the Mist (review) and actually enjoyed it more than I expected after the mediocre reviews I saw. But I genuinley fell in lvoe with Renée's writing in "La Revancha del Tango" from Three Sides of a Heart. The writign was so exceptional and immerseive that I definitely want to check out The Wrath and the Dawn soon.
---
There are some exciting anthologies coming out later this year that I'm really excited for
A Thousand Beginnings and Endings edited by Ellen Oh | East and South Asia mythology stories!!!! By East and South Asian authors !!!!!!!!!!!!!!!!!!!!!!!!!!!!!!!!!!!!!!!!!!!!!!!
Our Stories, Our Voices edited by Amy Reed | All about growing up female in American and how that intersects with race, religion, ethnicity. AND THERE ARE SO MANY AMAZING AUTHORS CONTRIBUTING!!!!!!!
Fresh Ink edited by Lamar Giles | So this was an obvious pick up because I loved Giles' story in Three Sides of a Heart, but also Jason Reynolds is in this. That is all.
---
What are some of your favorite anthologies? (PLEASE GIVE ME MORE ANTHOLOGIES TO READ – i will love you forever) What upcoming anthologies are you most excited for? Which authors do you want to read more from after reading them in an anthology? Share below!