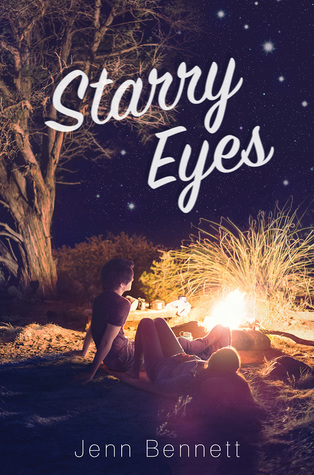 Title: Starry Eyes
Author: Jenn Bennett
Rating: ★★★☆☆
Publisher: Simon Pulse
Release Date: April 3, 2018
"Don't be cautious. Be careful."
---
Synopsis
Ever since last year's homecoming dance, best friends-turned-best enemies Zorie and Lennon have made an art of avoiding each other. It doesn't hurt that their families are the modern day, Californian version of the Montagues and Capulets.
But when a group camping trip goes south, Zorie and Lennon find themselves stranded in the wilderness. Alone. Together.
What could go wrong?
With no one but each other for company, Zorie and Lennon have no choice but to hash out their issues via witty jabs and insults as they try to make their way to safety. But fighting each other while also fighting off the forces of nature makes getting out of the woods in one piece less and less likely.
And as the two travel deeper into Northern California's rugged backcountry, secrets and hidden feelings surface. But can Zorie and Lennon's rekindled connection survive out in the real world? Or was it just a result of the fresh forest air and the magic of the twinkling stars?
---
---
Review
I wanted to read this because I thing hiking and camping are fun and haven't really seen that in a YA story before that wasn't an epic fantasy journey. I have to say, Starry Eyes was a fun time. I laughed a lot and couldn't put the book down!
Things I Liked 
This book definitely wasn't short on the tropey contemporary elements I love. We have feuding families (a la Romeo and Juliet), and we have the incredible mashup of friends-to-enemies-to lovers. It made the book incredibly easy to read and I just devoured it.
I really liked Lennon and thought her was a great love interest. He's snarky and blunt, but also caring and genuinely a good person who isn't afraid to be vulnerable or emotional.
I also enjoyed the romance in the story, which is pretty important because it's a major plot. The flirting and banter hooked me and drew me into Lennon and Zorie's relationship.
Things I Didn't Like 
I didn't really like or connect with most of the charactersbesides Lennon, including MC Zorie. We just didn't have that spark, but I did love her love of astronomy.
Even though there is obviously excessive and exaggerated drama, I still found parts of the story to be unbelievable, and that pulled me out.
Even though I wasn't as invested as wanted to be but it was sufficiently cute and addicting, so I had an enjoyable time overall.
I received a copy of the book from Simon Pulse via Edelweiss in exchange for an honest review.
---
---
About the Author
Jenn Bennett is an award-winning author of young adult books, including: Alex, Approximately; The Anatomical Shape of a Heart (aka Night Owls in the U.K.); and Starry Eyes. She also writes romance and urban fantasy for adults. Her books have earned multiple starred reviews, won the Romance Writers of America's prestigious RITA® Award, and been included on Publishers Weekly Best Books annual list. She lives near Atlanta with one husband and two dogs.
---
Giveaway

Prize: 3 copies of STARRY EYES by Jenn Bennett (galleys)
US Only
Starts : 3/28
Ends : 4/1
---
FOLLOW THE TOUR
A million thank yous to THE FANTASTIC FLYING BOOK CLUB for organizing and hosting the tour for this amazingly hilarious and adorably cutecontemporary! Make sure you follow along with the rest of the tour the see what these amazing bloggers have to say about this charmingly sweet read.
Don't forget to grab your copy!
Amazon | B&N | Book Depository