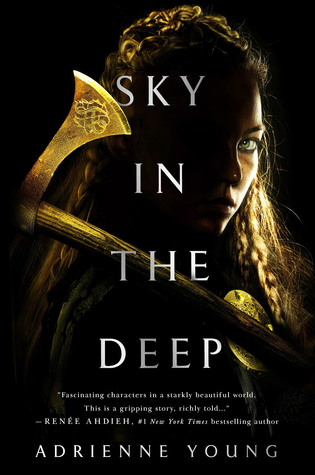 Title: The Sky in the Deep
Author: Adrienne Young
Rating: ★★★★☆
Publisher: Wednesday Books
Release Date: April 24, 2018
"Vegr yfir fjor. Honor above life."
---
Synopsis
OND ELDR. BREATHE FIRE.
Raised to be a warrior, seventeen-year-old Eelyn fights alongside her Aska clansmen in an ancient rivalry against the Riki clan. Her life is brutal but simple: fight and survive. Until the day she sees the impossible on the battlefield—her brother, fighting with the enemy—the brother she watched die five years ago.
Faced with her brother's betrayal, she must survive the winter in the mountains with the Riki, in a village where every neighbor is an enemy, every battle scar possibly one she delivered. But when the Riki village is raided by a ruthless clan thought to be a legend, Eelyn is even more desperate to get back to her beloved family.
She is given no choice but to trust Fiske, her brother's friend, who sees her as a threat. They must do the impossible: unite the clans to fight together, or risk being slaughtered one by one. Driven by a love for her clan and her growing love for Fiske, Eelyn must confront her own definition of loyalty and family while daring to put her faith in the people she's spent her life hating.
---
Review
This viking-inspired fantasy story was surprisingly character driven. Outside of some immensely intense action opening and ending the story, this is really about Eelyn's personal journey rediscovering her brother and learning that their differences don't define them.
I loved seeing the viking culture explored in both the Aska and Riki clans. I loved seeing how their religion and afterlife beliefs influences their actions. It really showcased how the clans were alike and similar. I also like learning some of the legends and politics too – it really helped with the worldbuilding. I really liked Eelyn as a main character. I found it easy to relate to her and I like that she got to express her anger at her brother for disappearing.
Although I loved what we saw of the different clans ceremonies, I don't feel like I know a lot about their gods. I feel like I have a broad understanding of the culture but not specifics, which would have grounded the story for me. I also feel like I don't really know who the Herja are – they seemed more like boogeyman, almost supernatural, but I'm not sure. Besides liking Eelyn, I didn't really connect with the characters. I was upset at Iri for a large part of the story, but I did grow more favorable toward him like Eelyn does.
There were some genuinely heartwarming moments that absolutely captivated me, combined with the intense and brutal action created a full and engaging story. The Sky in the Deep is a solid fantasy debut that pulls you into a fantastical world centered on family.
I received a copy of the book from Wednesday Books via Netgalley as a part of the SST Blog Tour.
---
About the Author
Adrienne Young is a born and bred Texan turned California girl. She is a foodie with a deep love of history and travel and a shameless addiction to coffee. When she's not writing, you can find her on her yoga mat, scouring antique fairs for old books, sipping wine over long dinners, or disappearing into her favorite art museums. She lives with her documentary filmmaker husband and their four little wildlings beneath the West Coast sun.
Website | Twitter | Instagram | Goodreads | Pinterest | Facebook
---
Giveaway
1 Finished Copy of Adrienne Young's Sky In The Deep (US only)
---
Follow the Tour
Thank you so much to Aditi @AThousandWordsAMillionBooks , Nori @ReadWriteLove28 , & Sara @AGingerlyReview for organizing and hosting the tour for this action-packed historical fantasy! Make sure you check out the other stops on the tour to see what these amazing bloggers had to say about THE SKY IN THE DEEP!
4/1 Tour Stops
Interview – @EmilyReadsEverything
Guest Post – @ABackwardsStory
Review – @FlyLeafChronicles
Reivew – @Here'sToHappyEndings
4/8 Tour Stops
Interview – @OMGBooksandMore
Review – @LifeofaLiteraryNerd
Review – @BoundlessBookaholic
Reivew – @DiaryofanAvidReader
4/15 Tour Stops
Review – @HopefulReads
Excerpt – @TheHermitLibrarian
Review – @DaniReviewsThings
Review – @AimeeAlways
4/22 Tour Stops
Review – @LibraryofaBookWitch
Review – @PrettyDeadlyReviews
Interview – @BookstacksAmber
Review – @AGingerlyReview
4/29 Tour Stops 
Guest Post – @Sarcasm&Lemons
Review – @AThousandWordsAMillionsBooks
Review – @ABookandaCupofCoffee
Interview – @Tween2TeenBooks
---
Are you excited for SKY IN THE DEEP? What's your favorite viking related story of show? Share below & Make sure you grab your copy of SKY IN THE DEEP today!
Amazon | B&N | Book Depository